Mark Wahlberg Attached To 'Broken City,' With Allen Hughes Set To Direct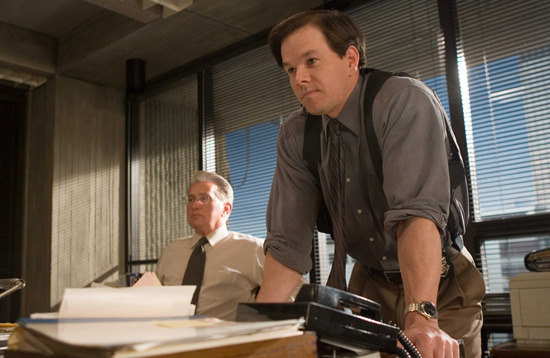 Next year might be looking up for Mark Wahlberg. After a couple of years characterized by films like The Happening, Max Payne and The Lovely Bones, he made some audiences happy with The Other Guys, and will go into 2011 with David O. Russell's The Fighter under his belt. And while there's been fan outcry about his starring role in Uncharted, also directed by David O. Russell, that one might be another year off. In the meantime, there's the possibility that the actor could show up in something a lot more appealing. Namely, the black as night neo-noir Broken City.
The Brian Tucker script landed on the black list, and has enough complexities and intrigue to earn comparisons to Chinatown. Mark Wahlberg would play Taggart, a former cop who was disgraced for shooting a teenager. Years later, he's a private detective, and his services are sought by the New York mayor to look into his wife's fidelity, or lack thereof.
Mr. Wahlberg told MTV:
There's this other thing, 'Broken City,' that I want to do... at the end of next year with Allen Hughes directing. It's on the Black List. It's one of the best unproduced screenplays... It's an amazing piece of material that should attract amazing talents. Hopefully we'll get that thing together.
The idea of Allen Hughes directing, especially next year, represents an interesting question mark. He and his brother Albert were hired by Warner Bros. to direct the live-action Akira in the wake of the performance of their film The Book of Eli. But comments made by Albert made it seem as if (a) they weren't super-thrilled with WB's insistence on a PG-13 film and (b) Albert Hughes might direct the film on his own. The latter point was also reinforced by other reports that had Allen splitting off to make Gentlemen of Leisure for HBO.
There has been no official announcement, as far as I know, that pegs Albert as the sole Akira director. But that's how it's looking, and with Akira being a real project at WB, how is Allen Hughes going to be part of that massive undertaking and also make Broken City at the end of next year? Mark Wahlberg's comment is specific enough about Allen Hughes directing Broken City that there's not a huge amount of room to misinterpret it.
Draw no conclusions yet, but keep these things in mind as news on both films comes out.