Stage Bits: New Clips From 'Spider-Man: Turn Off The Dark'; 'Batman Live' Will Tell Robin's Origin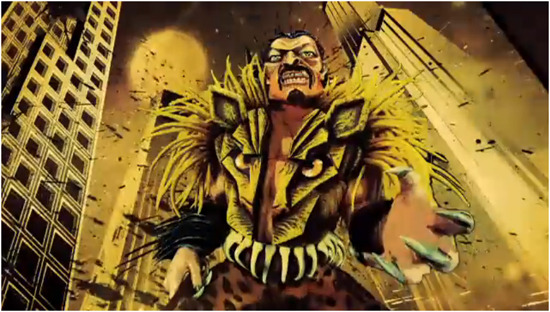 Julie Taymor's musical Spider-Man: Turn off the Dark is the holiday gift that keeps on giving in 2010. You want to see Spidey flying onstage? How about the musical version of J. Jonah Jameson (Edit: or Hammerhead, probably) and Kraven the Hunter? It's all right here in two new video spots. Plus, just because Spidey can't have all the fun on stage, there's some newish info about Batman Live and how Robin figures into the performance.
Before we go any further, here's the TV spot for the Spider-Man musical, courtesy of Bleeding Cool.
I've laughed about the costume designs for Spider-Man: Turn off the Dark, but as I see more clips of the stage set and performance I can't deny that it is a wildly ambitious project. That doesn't necessarily translate to 'good,' but the set designs and the fact that there are people flying all over the stage is pretty impressive.
On the other hand, I'm still chuckling over the Kaiju Big Battel version of J. Jonah Jameson that we see in that ad, and Kraven and Carnage in motion don't look much better. Here's another video clip, originally from Facebook, showing a bit more behind the scenes action, including a few more stunts that hopefully won't break any more of the cast's limbs.
Finally, check out the spot advertising tomorrow's edition of 60 Minutes, during which there will be a puff piece on the musical. This spot has some good (?) footage of Green Goblin or Electro erupting in a minor shower of sparks. No, I don't know what that's about, either.
This is the official rundown on the Spidey musical:
Featuring direction by Tony® Award-winner Julie Taymor, music and lyrics by 22-time Grammy® Award-winners Bono and The Edge, a book co-written by Taymor and Glen Berger and one of the most iconic title characters of all time, SPIDER-MAN Turn Off The Dark is the most ambitious production ever undertaken on Broadway and finds astonishingly fresh ways to tell a story inspired by over 40 years of Marvel comic books. The show follows the story of teenager Peter Parker, whose unremarkable life is turned upside-down when he's bitten by a genetically altered spider and wakes up the next morning clinging to his bedroom ceiling. This bullied science-geek suddenly endowed with incredible powers soon learns, however, that with great power comes great responsibility as villains put both his physical strength and strength of character to the test. SPIDER-MAN Turn Off The Dark will thrill the audience through a unique entertainment experience in ways never- before-dreamed-possible in live theater.
Meanwhile, from the Manchester Evening News (via CBM) comes a few nuggets of info on Batman Live, which will be an arena performance rather than a theater-based one. (The difference being venue size.) Producer Nick Grace, who is also behind Walking With Dinosaurs and Mamma Mia!, says "we decided against theatres because you can't do things on a huge scale. In the arenas you can have pyrotechnics and large video screens and lots of action. An event like this deserves to be in a big space."
The report says Batman Live will tell the story of Bruce Wayne adopting orphaned circus youngling Dick Grayson, and how the boy becomes sidekick to Batman. Along the way, The Joker, Riddler and Catwoman will be introduced.
The producer also describes how the stage will be built with a runway that extends into the audience in order to bring the action right into the seats, while a 130' video screen acts as backdrop behind the action. There will also be a full-scale Batmobile driving onto stage.
It is not a musical, but a dramatic show with a storyline which tells the origins of Batman's sidekick Robin. There is dialogue but the scenes are short, snappy and full of action. We basically wanted to bring the excitement of a comicbook to stage.