Jeremy Renner Confirms That He's The Future Of 'Mission: Impossible'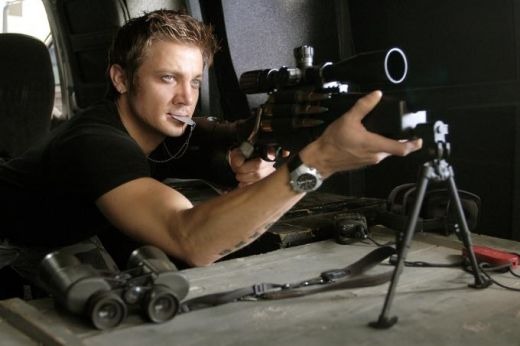 Just as the title says, call this a confirmation of some of the early stories about the fourth Mission: Impossible film. Specifically, reports said that a second actor would be sought who could continue the series in the absence of Tom Cruise, who has anchored the first three films and is presumably the lead character in the fourth, which has been shooting for the past couple months. Jeremy Renner was cast as that second character, and now he says that, should the studio decide to move forward in the future, the burden of carrying the series would fall on his shoulders.
The actor told MTV,
It's a franchise to potentially take over... I can't predict the future and what they want, but that's certainly the idea.
So not really anything new there, just a confirmation that, yes, those reports were right. But chew on this. It's one thing to hear that the Spider-Man script isn't totally locked down right now — that movie has a couple weeks to go before shooting. But I couldn't help cocking an eyebrow over the fact that the script for this fourth M:I film, Mission: Impossible – Ghost Protocol, is still in flux. As Mr. Renner says,
I can't really go into the details of the script, because that's still evolving... It's Tom's baby. He's the engine behind the thing. What happens after that, we'll see.
We know the production has been heavily involved in location shoots and action sequences so far, as we've seen spy pics of Tom Cruise on rooftops and poised atop some of the world's largest buildings. Indeed, Renner praises his co-star, but admits that for his own part, he's been singularly focused on the action side of things:
I haven't gotten to work too much in terms of acting stuff, but the stunts have been insane... Tom has been doing loads. He's crazy, that guy. It's unbelievable. He's fearless. He's great to watch. He inspires me to want to be better. I'm training in the gym and working out and fighting and doing everything I can to try and keep up. I'm doing hand-to-hand combat, Muay Thai and kung fu and learning how to take someone out quickly.
The comment about not getting to work on too much of the 'acting stuff' along with the idea that the script is in flux would worry me more if someone other than Brad Bird was directing. But that's a guy with a great sense of story, so here's to staying positive and hoping that everything is well in hand for Mr. Bird's live-action directorial debut. Mission: Impossible Ghost Protocol is out in just over a year, on December 16, 2011.