'Back To The Future' Video Game Screenshots Revealed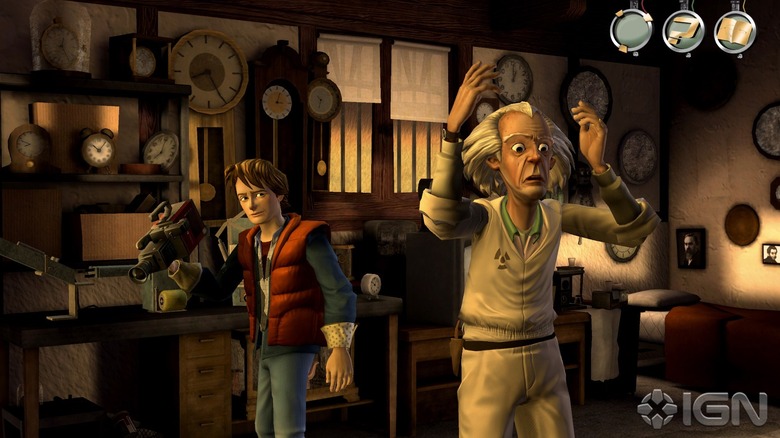 As you know by now, Telltale Games is about to release a series of new episodic video games based off the Back to the Future franchise. Series Co-creator/co-writer/co-producer Bob Gale is grandfathering the five-episode game series with Christopher Lloyd reprising his role as Doc Brown in the games, providing his likeness and recording a bunch of new dialogue. Michael J Fox was unavailable so newcomer A.J. LoCascio is voicing Marty McFly. The first game (which is released next month on PC and Mac, later on for PS3 and iPad) will follow the further adventures of Marty McFly, and take place six months after the end of Back to the Future Part III.
IGN has an interview with Telltale's co-designer Mike Stemmle which also includes some new screenshots from the game itself.
"The story in the game is completely new, set several months after the events of the third movie from Marty's perspective. Of course, this is a story that involves time travel, so who knows where it'll end up? We're working with Bob Gale to make sure we're delivering an authentic experience. There'll be numerous recognizable elements of course – the Hill Valley town center, the clocktower, the DeLorean, Doc's lab, and quite a bit more. And you'll see them in ways you haven't experienced before."  This is an adventure game, so you can expect to collects items here and there to solve puzzles and get characters to do things. As Stemmle states, "You'll be primarily applying inventory to in-world characters and objects in the game. Marty's not much of an 'assemble three inventory items into a workable gadget' kind of guy."
Hit the jump to see a couple new screenshots from the game.
Click through to see the images in high resolution on IGN.com:
Previously released Concept Art from the game:
Here is what we know about the game:
Will include the likenesses of Michael J. Fox and Christopher Lloyd as the characters Marty McFly and Doc Brown
Other characters from the series will make appearances, and some of the actors will reprise their roles.
Christopher Lloyd will also provide his voice for the games.
Back to the Future series screenwriter Bob Gale is working with the game developers on the story
They are planning five "episodes".
It will be set in the fictional California setting of Hill Valley, and will explore 1985 and additional time periods.
For those of you who don't recognize the name of the company — Telltale Games is a video game developer founded in 2004, consisting of a group of former LucasArts employees who worked on the Monkey's Island and Sam & Max games. They have produced games based on Wallace & Gromit, Homestar Runner and Tales of Monkey Island.
Telltale Games CEO Dan Connors has said that "the games, which are in the early stages of development, would tell new stories extending the "Back to the Future" and "Jurassic Park" lore. He teased that the "Back to the Future" games may include a DeLorean ride back to the 1970s while the "Jurassic Park" games would be intense and add new backstories to the series' man-versus-dinosaur mythology."
"The games are going to exist within these worlds," said Connors. "I wouldn't call these games sequels per se but a new interpretation of their worlds for a new medium. For one generation, it's an introduction to these series. For another generation, it's a thing they can look back on and something they can share warmly with their family and friends."
Then, here's part one of the Back to the Future video game series called Behind The Scenes.
And here's part two called Hey McFly. And for anyone who is thinking "Why didn't they just get Michael J. Fox?" well, he did allow the game developers to use his likeness, he just "wasn't available to do voicework," so they got A.J. LoCascio instead.
Here's a third video all about Building the Game.
The games will be released for Xbox 360, PlayStation 3, Wii, PC and Mac games this winter. As someone who is a huge Back to the Future fanatic, I am very excited. Out of all the games produced based on the Back to the Future franchise, none of them have been really good. The coolest thing I've seen was a mod for the game Crysis. And judging by Telltale games past releases, this project has the potential to be really fun.