Teaser Trailer: 'Hop,' With Russell Brand As The Easter Bunny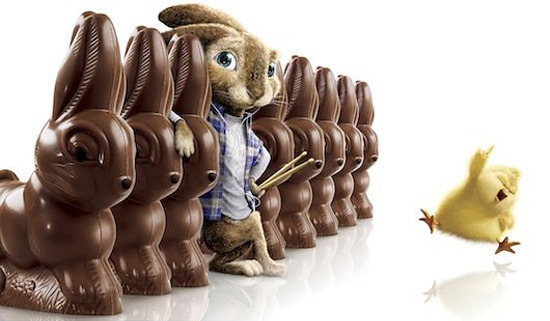 Despite the headline proclaiming that Russell Brand voices the Easter Bunny in Hop — and, indeed, he does — there's nothing to that effect in this teaser. All you'll see of the film is some drumming bunny animation. And what of the story with James Marsden playing a guy who takes in the Easter Bunny after he accidentally injures the not quite mythical beast? None of that here, folks. But it does inform audiences that the film is from the folks behind Despicable Me. Check out the teaser after the break.
But if you're going to use Blur's 'Song 2' — a well-worn piece of great pop if ever there was one — you might as well animate a bunny rabbit playing along on drums. I'm not sure how effective this will be as a teaser for Hop, since there's no real indication of any of the film's content. But, hey, cute bunny! The internet sure likes those, although not as much as cute cats or dramatic eagles.
The synopsis and trailer both come from Moviefone:
Fred (Marsden), an out-of-work slacker, accidentally injures the Easter Bunny (voiced by Brand) and must take him in as he recovers. As Fred struggles with the world's worst houseguest, both learn what it takes to finally grow up.
Tim Hill (Alvin and the Chipmunks) is directing. The script is by Cinco Paul, Ken Daurio and Brian Lynch. Hop releases on April 1, 2011.