The Awesome 'Toy Story 3' Oscar Campaign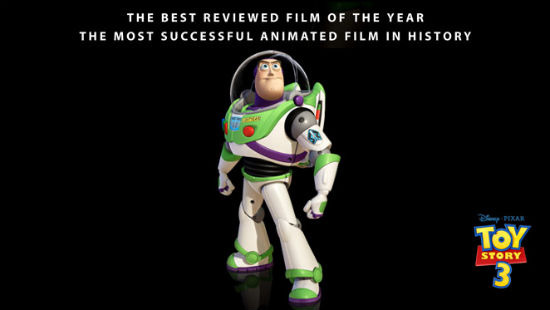 Disney and Pixar know they can win an Oscar for Best Animated Film. That's just too easy. So this year, with that award all but locked up once again, they've decided to take on the big boys. They want the Oscar for Best Picture.
To that end, an elaborate Oscar campaign for Toy Story 3 has recently been launched in which characters from the film are portrayed in previous Best Picture winners that had something going against them such as being a different genre, a sequel or a plain old underdog. Films such as The Godfather Part II, West Side Story, On The Waterfront, Shakespeare In Love, The Silence Of The Lambs, Titanic, The Lord Of The Rings: The Return Of The King and Forrest Gump will all get a Toy Story makeover in the coming months. And though only two of these ads have surfaced so far, they are so awesome, you've got to check them out. We've got them after the jump as well as quotes from the Disney brass about Toy Story 3's chances.
"We're going for the Best Picture win," Walt Disney Studios Chairman Rich Ross told Deadline, who originally wrote about the campaign. "We wanted to have the best movie and the reviews have clearly said that and it's the number one box office hit of the year so I'm not sure why we would not go for it all."
So they came up with these ads – some of which have yet to be approved by all parties – which all feature the phrase "not since," and will run in various trade publications. The point is to evoke the emotions of Academy voters into thinking, "not since Return of the King has a sequel won Best Picture. Maybe it's that time again."
"The theory is pretty simple for us," Ross told Deadline. "It's thrilling that there is a separate category for animation and that allows animated movies to be recognized but for some reason an animated film has never gotten Best Picture and I always wondered was there not an appetite? We decided this year we have the biggest and best reviewed film of the year. If not this year, and not this movie, when?"
Here are the first two ads that have been released, as well as the cover of Variety from a few weeks back.
Here's how Ross described the campaign.
With this movie we wanted to come up with a campaign that kept our aspirations clear but at the same time used a tongue in cheek approach. It's all to recognize the quandary which is that no animated picture had won Best Picture, so we used only Best Picture images to reflect that. I feel very confident we have a movie everybody loves and I want to make sure with our support and our campaign that people don't feel the consolation prize is the appropriate prize for a movie like Toy Story 3. I think people will look at the ads and feel it's very Pixar and very Disney. At the same time it's very clear. Toy Story 3 is a Best Picture. Vote for it. Please.
Unfortunately, we don't have the ability to actually vote for the film, but I think Toy Story 3 should certainly be in the running. What do you all think? Does Toy Story 3 rank with front runners like The Social Network, Inception, True Grit and others? And will a potential victory for Best Animated Film hurt it? Also – what are your thoughts on these ads?
Additional sources: AwardsDaily and Pixar Talk