Neill Blomkamp's Mysterious 'AGM Heartland' Teaser Trailer In WiReD Magazine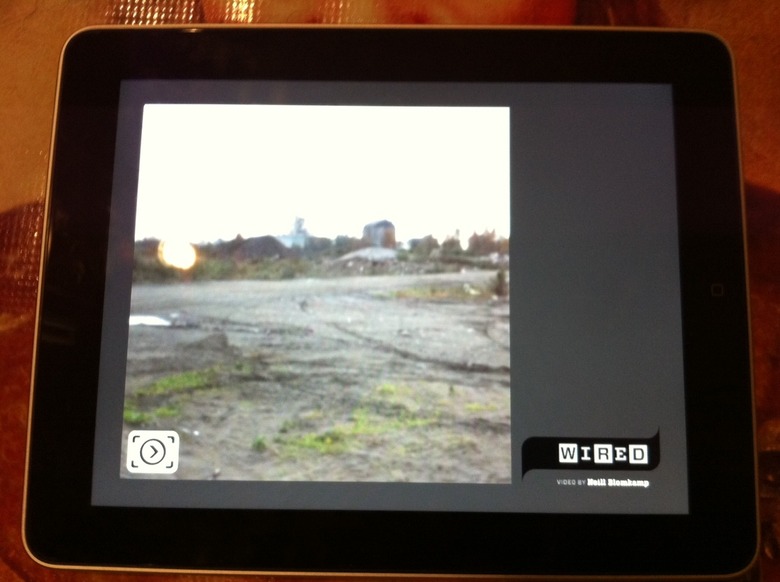 Thanks to a tip from /Film reader Vradst, we have discovered a weird unexplained video credited to District 9 filmmaker Neill Blomkamp included in the latest iPad digtial version of WiReD Magazine (issue number 18.12). The video appears on the splash page before the big Tron: Legacy cover story, and is credited simply as "Video By: Neill Blomkamp". Could this be a viral teaser trailer for Blomkamp's next project?
The video, which you can watch for yourself embedded after the jump, features two young men who discover a dead alien-looking creature in a puddle on the side of a dirt road. The creature has a circular stamp on its side which reads "18.12 AGM Heartland Pat Pend USA" and the outer circle reads: "US Inspected And Approved".
Hit the jump to watch the video for yourself. Please leave your thoughts in the comments below.
Here is what I've discovered. 18.12 is the number of the issue of WiReD that this video appears in. I did some searching and found out that a Beverly Hills-based company named Sable Productions Ltd. filed for the trademark "AGM Heartland" on October 18th 2010. The trademark use is labeled as:
Entertainment services by way of an online website with video, audio and textual content and images featuring characters and storylines about a fictional genetic engineering company that produces genetically engineered and altered organisms
The fact that it mentions only online and not theatrical or television makes me think it's not related to a film project... but you never know. My guess is it's for some kind of online narrative. What do you think?
Neill's next project has previously been reported to be an original sci-fi take for Media Rights Capital supposedly titled Elysium. When that deal was announced, we heard that not only would MRC finance the film, the company will give Blomkamp creative freedom and an ownership stake in the film. Elysium's last budget report pegged it as being in the $30-40m range. Blomkamp has said the following about his next project:
Hopefully, this will be a bit unique, very much a reflection of me. It is absolutely another science fiction film, quite different from `District 9,' but some of the blending of genres and the tone might be within the same realm.
I've got one science fiction idea that I'm absolutely in love with, which I'm pretty sure is going to be my next film. 99% sure...It's totally original, it's my own story...It's set on another planet, but it's cool. It's violent, very violent, and very unique hopefully. We'll see.
it is science fiction and it has many sociopolitical ideas that interest me. Those ideas are wrapped up inside something that is like a Hollywood action film...The setting for the next film takes place 150 years from now. There are two cities that I'm choosing between. They would play as themselves. They are not in South Africa.
The last comment seems to contradict the previous statement that the film is set on another planet, so maybe he is talking about two different projects in the above quotes.