Billy Bob Thornton May Direct 'Jayne Mansfield's Car,' Talks Of 'Bad Santa' Sequel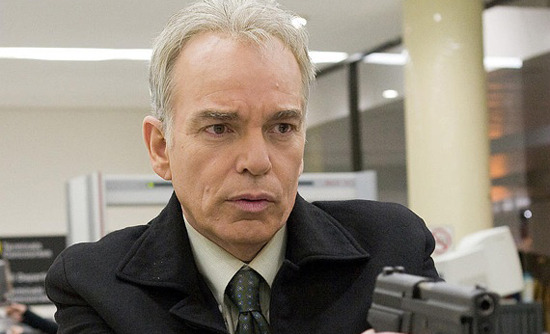 Billy Bob Thornton's directorial career has described an odd path. He broke out in a big way with his feature expansion of Sling Blade (from the short Some Call it a Sling Blade, directed by the late George Hickenlooper) and then went through the Weinstein wringer with All the Pretty Horses. His last film was Daddy & Them in 2001.
In the years since, he's talked about possible new directorial projects. While promoting The Astronaut Farmer he mentioned wanting to make a documentary and expressed continued interest in making a biopic about Kentucky cave explorer Floyd Collins. (Also the subject of a critically-acclaimed stage musical in 1994.)
Now he says he's got a script called Jayne Mansfield's Car that he'd like to direct, and he also expresses lingering interest in a sequel to the vulgar and terrifically funny holiday comedy Bad Santa.
Collider talked to the actor, who said,
My old writing partner Tom Epperson and I just wrote another script, we haven't written together in years, 15 maybe. And we're hoping to get that made in the spring, that's what we're working on right now...No title. But it's a—actually it does have a title, I may as well tell you, maybe it'll intrigue people. It's called Jayne Mansfield's Car, and it's a dandy if I do say so.
Tom Epperson is the man with whom Mr. Thornton wrote One False Move (a great, still under-seen thriller/noir) and he also penned Sam Raimi's The Gift.Jayne Mansfield's Car is definitely intriguing — on the surface it would seem to be a reference to the 1966 Buick Electra 225 in which the actress, her husband and their driver were all killed after rear-ending a tractor-trailer. The crash became Hollywood legend, complete with inaccurate reports of the actress being decapitated, and was immortalized in the J. G. Ballard novel Crash. (In which the anti-hero, Vaughn, dreams of recreating the Mansfield crash; we see a version of the recreation in David Cronenberg's film based on the book.)
So what would Jayne Mansfield's Car be about? There are so many possibilities that it is pointless to list them all – some rumination on fame comes to mind, but without any more info guessing is probably pointless.
And while there are no current plans for a Bad Santa sequel, the actor says it's the only film of his for which he'd like to make a sequel. But getting it moving would take some power:
And there's been talk of making a sequel to it, which I actually would like to do. I've never done a sequel to one of my movies, but that one makes sense to me to do it... [It would probably take] a director who's got the juice to, with whoever makes it, you know puts up the money to get it in blood. That's the way you have to do it, and hopefully it'll work.