Netflix Debuts Streaming-Only Subscription, Raises Prices For Most Other Services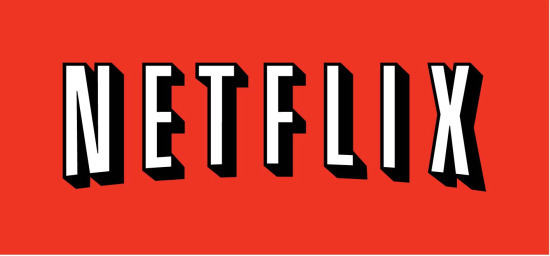 Netflix giveth and Netflix taketh away. As a fulfillment of the plan we reported not too long ago, Netflix has now launched a subscription plan that will offer only streaming video for a mere $7.99 per month. But along with that service comes a price hike for almost all disc-based subscriptions. All the pricing and some of the rationale for the new rates are after the break.
The Netflix company blog announced the new streaming service and all new prices. One and two-disc subscription plans will get a $1/month price hike, while plans that allow customers to have more discs per month will get a price hike equal to one dollar per disc. So 3-disc plans go up $3, 4-disc plans have $4 tacked on, and so forth. New subscribers get these prices immediately, while existing customers will see the rate increase in January.
Only the limited plan which allows customers no more than two discs per month will remain the same price. (Who uses that? And this way, we can't say that all other services are getting a price hike. Tricky.)
The company has provided this handy chart, in case all those details aren't clear: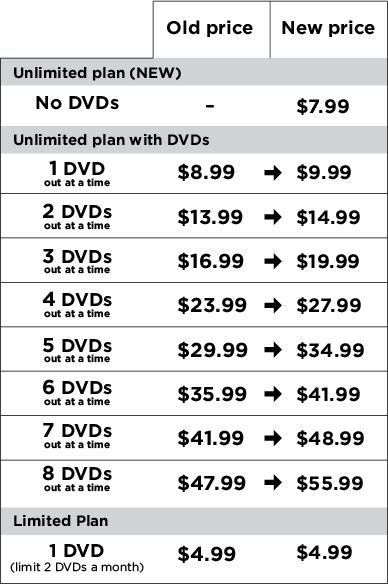 This is the latest step in a gradual shift for the company that prioritizes streaming services. The 'watch instantly' catalog has grown significantly in the past few years, to the point where it can legitimately be used as a reliable source of great movies. DVD is started a slow fade over the last couple years, and this plan is clear evidence that Netflix sees the DVD by mail business as a legacy aspect of the company, rather than the future. For a clearer indication of that mindset, here are some of the comments made with the release of this price structure:
Why the changes? Our selection of TV episodes and movies available to stream has grown dramatically, and as a result most members want us to deliver unlimited TV episodes and movies two ways: streaming instantly over the internet plus DVDs by mail. The price increase will allow us to continue to offer the popular plan choice of unlimited TV episodes and movies streaming instantly along with unlimited DVDs.
You might also wonder why we haven't introduced a new plan that includes only DVDs by mail. The fact is that Netflix members are already watching more TV episodes and movies streamed instantly over the Internet than on DVDs, and we expect that trend to continue. Creating the best user experience that we can around watching instantly is how we're spending the vast majority of our time and resources. Because of this, we are not creating any plans that are focused solely on DVDs by mail.