First Look: Angelina Jolie's Untitled Directorial Debut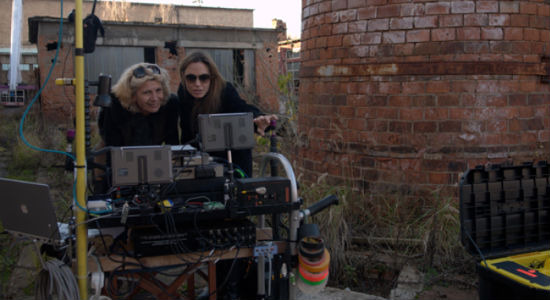 One of the most intriguing films currently in production is Angelina Jolie's directorial debut, a still untitled love story set during the Bosnian War. The film encountered some unfounded controversy over its subject matter, there by removing focus from the real story: Is Angelina Jolie as talented a director as she is an actress? Well, now we've got our first look. A photo from the film (not the one above) has surfaced in addition to some more information about Jolie's vision of how to tell the story of a Serbian man and a Bosnian woman in love who get separated during the 1992-1995 Bosnian War during which 100,000 people were killed. See the photo from the film and read about some of Jolie's directorial choices after the jump.
Thanks to The Playlist for a heads up on the image, which came out of a Hungarian newspaper. Here it is, featuring stars Zana Majonovic and Goran Kostic.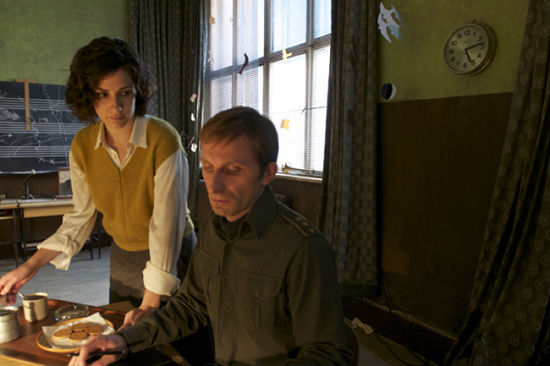 Not much there, but there's more in the article. It's an extensive interview with Jolie in which she discusses where she got the idea for the film, how she wrote it, raised the money and some of the themes it might convey while being politically and historically accurate. So definitely check that out.
Some of the most interesting bits, though, focus on Jolie as a director. For example, she's thinking about releasing the film in black and white.
It's shot in color but it could transfer to black and white. We haven't decided that. I can show you... we put a series of pictures together in black and white and it was beautiful. But the important thing I want to make sure that we make a film for people who just want to go to the movies to watch a love story. To not be put off by anything that seems too heavy So we want to walk that fine line to make it accessible to everybody because it's important for as many people to see it.
Also, Jolie chose to shoot the movie in two languages.
We actually shot a full version in their native language and we shot a full version in English. We shot two complete films. I was only able to do it because the actors were so fluent in English so they were willing to work hard and do the scenes in two languages.
As for which version will be released, Jolie says, for now, they might change it on a country to country basis. That would be something very interesting.
Once Jolie is finished shooting, which should be soon according to that piece, she'll edit the film in Los Angeles. No word on distribution or festivals but one can imagine, with Jolie behind the project, that won't be a problem.
What do you think of Jolie as a director? Are the choices she's made so far indicative of a talent behind the camera?