Teaser Trailer: 'The Lincoln Lawyer'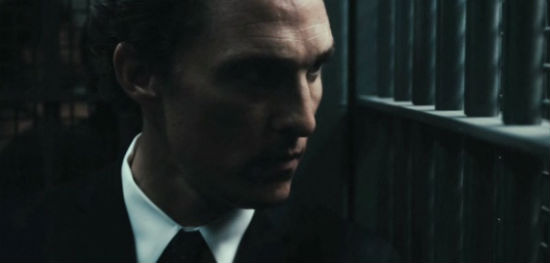 This morning, if someone said "You're going to be reading movie news about two films with the word "Lincoln" in the title today," you would have laughed in their face.
However, hot off the heels of the big news about Steven Spielberg's Lincoln, we've now got your first look at footage from The Lincoln Lawyer. Not to be confused with those little blocks you played with as a kid, The Lincoln Lawyer is a murder mystery starring Matthew McConaughey, Ryan Phillippe, Marisa Tomei, William H. Macy, John Leguizamo, Michael Pena and Josh Lucas. Though Tommy Lee Jones was originally attached to direct, the job eventually went to Brad Furman, who directed 2007's The Take.
Based on a novel by Michael Connelly, The Lincoln Lawyer looks like Primal Fear with a little more street as a lawyer who conducts business from the back of his Lincoln and gets wrapped up in a high profile case. Lionsgate will release The Lincoln Lawyer on March 18. Check it out the trailer the jump.
Thanks to Yahoo Movies for the trailer.
While that trailer doesn't exactly get me excited to see how the story unfolds, the fact that the film is populated with such a distinguished cast certainly gets me wondering about the quality of the script and the source material. From the trailer, it feels like a very run of the mill lawyer movie where the client seems innocent, is actually guilty, then the lawyer struggles with his morals. But when you add that cast and the fact that Tommy Lee Jones was interested in directing, even if it didn't work out, and maybe The Lincoln Lawyer is something to keep on our radars.
Do you agree about the trailer and the cast? Or do you have a whole different take on it, maybe because you've read the book or others by the author?