First Look: Karl Urban As Judge Dredd In 'Dredd'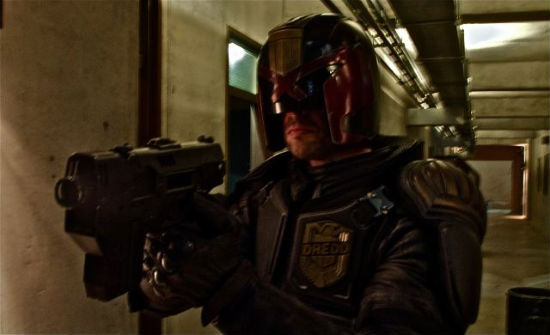 Here's our first look at the brand new Mr. I Am The Law. Thanks to comic book artist Jock for tweeting this photo of Karl Urban (Red, Lord of the Rings) starring as Judge Dredd in Dredd, the latest incarnation of the famous British-born comic book lawman. The film, which will be distributed by Lionsgate, has only been shooting for a short while, so it's pretty insane to get such an early look at the costume. Directed by Pete Travis (Vantage Point) from a script by Alex Garland (28 Days Later, Sunshine), Dredd also stars Olivia Thirlby (Juno, The Wackness). Read more, and see a bigger version of the photo, after the jump.
Though Jock tweeted the photo, we came upon it thanks to Bleeding Cool. Click below for the bigger version, which isn't that much bigger.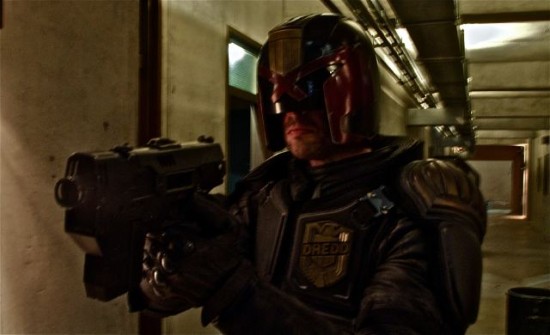 Before he got in front of the camera, Urban talked about his ideas for the film at Fantastic Fest in Austin, TX. Here's what I wrote about it over on Collider.
He's currently training for the film and said he's been reading Judge Dredd comics since he was 15. He feels the Stallone film was a missed opportunity and called his version "gritty" and "paired down" with a very real world aesthetic. There will be "no gold codpieces" in this film. Also, Urban will not be seen in the film as Dredd will not take his mask off. He felt this was very important to the character to make him an enigma and a symbol of "faceless justice."
And here's the official plot synopsis that we ran a few months ago. Russ also did a review of the script here, so you can find out more there.
DREDD takes us to the wild streets of Mega City One, the lone oasis of quasi-civilization on Cursed Earth. Judge Dredd (Karl Urban) is the most feared of elite Street Judges, with the power to enforce the law, sentence offenders and execute them on the spot – if necessary. The endlessly inventive mind of writer Alex Garland and the frenetic vision of director Peter Travis bring DREDD to life as a futuristic neo-noir action film that returns the celebrated character to the dark, visceral incarnation from John Wagner and Carlos Ezquerra's revered comic strip.
So Dredd fans, how does this costume compare to what Sylvester Stallone wore in his ill-fated 1995 film?