Video Game Bits: Ewoks In 'Force Unleashed II,' 'Star Wars' iPhone Game, Lego 'Pirates Of The Caribbean' Coming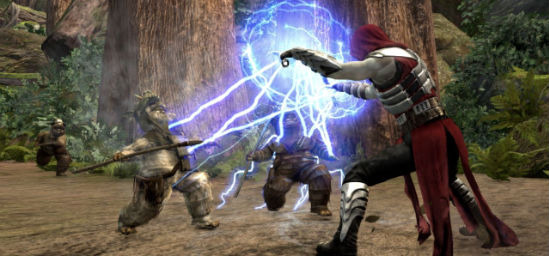 Ever wanted to blast Ewoks with Force lightning? Fly the Millennium Falcon over your home city? Play with a tiny Johnny Depp? If you answered "Yes" to any of those questions, and you play video games, your lucky day is coming. It's been announced that Endor and the Ewoks will feature into new downloadable content for Star Wars: The Force Unleashed II, there's a new Augmented Reality Star Wars game coming to your iPhone, and after the success of Harry Potter, Star Wars, Batman and Indiana Jones, there's a LEGO Pirates of the Caribbean in the works. Read more about each story after the jump.
Thanks to IGN, we've got a first look at some brand new DLC for The Force Unleashed II. You can read all about and see more photos over on their site but the biggest news is that it'll take place on Endor and you'll be able to destroy Ewoks. Here's what Lucasfilm Executive Producer Gio Corsi had to say about the Endor battles and how it fits into the Star Wars canon, followed by a photo of the deed.
It does indeed take place on the forest moon of Endor during the time of Return of the Jedi. However, we like to call this an 'infinite storyline,' much like the Hoth Bonus Mission from the first Force Unleashed game that gave us an alternate take on that iconic battle from the Empire Strikes Back. As Gamers and fans of the Star Wars universe, the infinite storyline allows us a "what if" moment that scratches an itch by rolling the dice with established Star Wars characters or scenarios. It's a pretty sweet opportunity. And yes, there will be battles with Ewoks!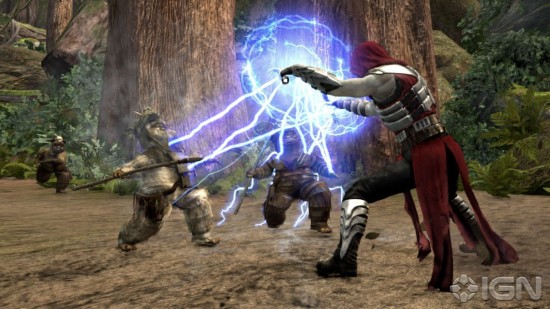 Next up is an awesome new iPhone/iPod Touch game coming out called Star Wars Arcade: Falcon Gunner. It takes whatever surrounding you are currently in, and makes it into a Tie Fighter battle from Star Wars Episode IV: A New Hope. So, basically, you can fly the Falcon and man the guns anywhere. You've gotta watch the video to see what we mean. Thanks to Gizmodo and SuperPunch.
Finally, it was inevitable. Every other major franchise has gotten the LEGO treatment so with a fourth movie on the way, it's no surprise that Pirates of the Caribbean is going LEGO. Thanks to Geek Tyrant for the heads up that LEGO Pirates of the Caribbean: The Video Game will hit shelves timed with Pirates of the Caribbean: On Stranger Tides this May. However, it'll only feature characters, locations and situations from the first three films. Read the full press release over at Geek Tyrant.
Out of these three video game bits, which one is the most exciting? That iPhone game is pretty cool but the ability to blast Ewoks has got to take the cake, right?