Leonardo DiCaprio To Investigate JFK Assassination In 'Legacy Of Secrecy'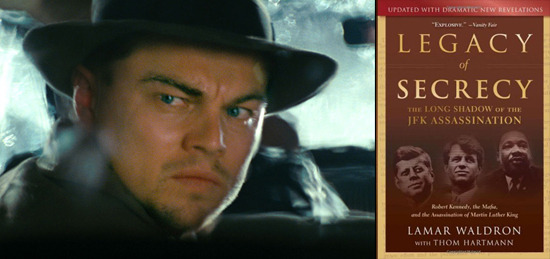 When it was confirmed that Leonardo DiCaprio would play FBI director J. Edgar Hoover for Clint Eastwood, I joked that now we only needed to see the actor cast as Henry Ford to complete an informal trilogy of films in which Leonardo DiCaprio played famously influential, eccentric American personalities.
This casting move isn't quite as good as seeing Mr. DiCaprio in Henry Ford's place, but it could lock him in as one of the new chroniclers of 20th century American life. He's now set to produce Legacy of Secrecy, in which he'll star as FBI informant Jack Van Laningham, who supposedly uncovered info about the assassination of President John F. Kennedy.
The book Legacy of Secrecy by Lamar Waldron and Thom Hartmann details the alleged trail of events in which key figures and actions of the FBI, CIA and mafia led to the death of JFK.
It's the core American conspiracy theory: that Jimmy Hoffa and the Teamsters funneled and laundered mob money at the behest of gangsters like Carlos Marcello, Sam Giancana and Santos Trafficante. The Mob and Teamsters supported Richard Nixon. Presidential crony J. Edgar Hoover denied the power of the mafia, choosing instead to focus on 'subversives' and the emerging Civil Rights movement. Robert Kennedy persecuted the Mob and deported Marcello. Between Bobby Kennedy's fierce anti-mob stance and JFK's refusal to deal with Cuba in a certain way so that the mob could establish a base in the country, things came to a head and JFK and RFK were assassinated, and key figures in those killings reportedly had a hand in the assassination of Dr. Martin Luther King, Jr.
Variety has it that Leonardo DiCaprio would play Jack Van Laningham, a one-time cellmate of Carlos Marcello to whom the mobster confessed having had a part in the killing of JFK. That suggests that the film would follow one reported years-long undercover operation that saw Van Laningham infiltrating the mob and getting close to Marcello. (Though some say that J Edgar Hoover wasn't interested in policing the mob, he was certainly interested in knowing what criminal organizations were doing, and regardless of what the final desired result might have been, the director placed informants in any possible organization.)
The trade says this would be a 2013 release, and there's no screenwriter set at this point. Mr. DiCaprio is scheduled to shoot Hoover soon, and then he is attached to a great many projects, including The Devil in the White City, The Great Gatsby, The Wolf of Wall Street, and possibly Travis McGee. Hoover is definitely happening and The Great Gatsby is sounding like it is getting close; the others all have question marks at this point.