Release Dates: 'Bad Teacher' And 'Footloose' Shuffled To New Berths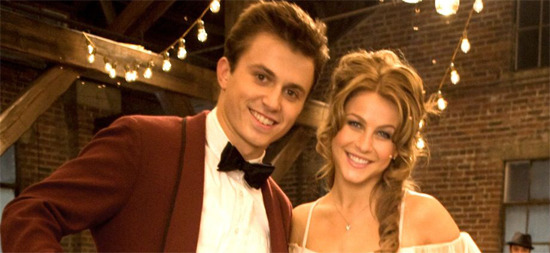 Here's news on the release dates for three films that couldn't be more different. Well, we haven't seen any of the three yet, or even trailers for any of them, but do you really expect there will be much common ground between the remake of Footloose, the comedy Bad Teacher and the Steven Soderbergh action/espionage picture Haywire? No, didn't think so. Info on all three is after the break.
First up is Footloose, which has been pushed back from April 1 2011 to October 14 2011. Craig Brewer directed the remake of the '84 original, and it stars Kenny Wormald and Julianne Hough in the roles originated by Kevin Bacon and Lori Singer. Co-starring are Dennis Quaid and Andie McDowell as the parents of Ms. Hough's character, and Miles Teller plays the hometown boy, originally played by Chris Penn.
We saw a photo of the two leads not long ago, and Craig Brewer has talked about having cut a teaser trailer, but with the film's release date pushed back we might not see that for a while. The date could indicate that Paramount has more confidence in the film than we previously expected, and it's probably ideal to have the dance film premiere right around the traditional homecoming dance season in the US.
Also moving out of an April date is the comedy Bad Teacher, which stars Cameron Diaz and Justin Timberlake. The film will now open on June 17, 2011, which pits it right against Green Lantern. That's counter-programming confidence from Sony/Columbia, right there.
Bad Teacher sees Cameron Diaz as a vulgar junior-high teacher who is dumped by her boyfriend and then sets her eye on a fellow teacher, played by Justin Timberlake. Jake Kasdan (Walk Hard) directs, and the cast is filled out by Lucy Punch, Jason Segel, John Michael Higgins, Molly Shannon and Thomas Lennon. [Deadline]EDIT: I've spoken to sources who say there's no movement on Haywire at this point, so there remains nothing to report. I've left the following article as original ran, but disregard the release date for now.
Finally there's Haywire, the Steven Soderbergh action/espionage film that has an all-star cast surrounding the film debut of MMA fighter Gina Carano.  (The rest of the cast includes Michael Fassbender, Channing Tatum, Ewan McGregor, Michael Douglas, Bill Paxton, Michael Angarano, Matthieu Kassovitz and Antonio Banderas.) The Limey screenwriter Lem Dobbs wrote the script, which has Gina Carano's character as a black-ops  solider out for revenge after being double-crossed by a teammate.
The film was scheduled for a January date by LionsGate, but was reportedly pushed to a later month when a distributor switch took place in September. Reports were that Relativity, which financed the film, bought it back from LionsGate. (As the company did with Season of the Witch.) We're told that the film will be released by Relativity on April 22, 2011. There's a conflict between the official info and what The Playlist is reporting, but the latter has been right on top of accurate casting and other info about this movie from day one. So we're willing to believe them again, and will revise if Overture/Relativity respond with different info. [The Playlist]