Cool Stuff: 'Star Wars' Tourism Posters By Steve Thomas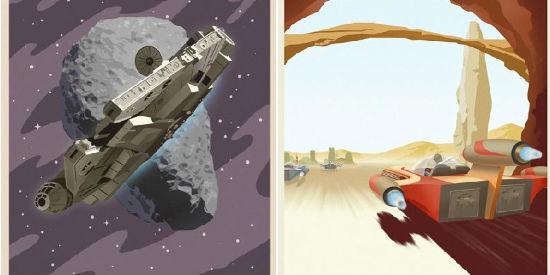 It seems the coolest thing about Star Wars these days is not liking Star Wars. Bashing George Lucas and what has become of the Star Wars universe is certainly the latest craze and anyone who comes out and says they're still a Star Wars fan probably feels like, well, what actual Star Wars fans felt like before 1997. In that long stretch between Return of the Jedi and the Special Editions, Star Wars wasn't as despised as it may be now, but it certainly wasn't cool like it was when the prequels came out.
So, it's a testament to the long lasting positive legacy of the franchise that artists continue to design posters inspired by the series. There's the awesome series now happening over at Mondo Tees, a whole bunch of minimalist stuff and now we have some really cool Star Wars tourism posters by artist Steve Thomas and released by Acme Archives Direct (they're the cool art booth on the back wall at San Diego Comic-Con, if you've ever been). It's an eight print series but only the first two have been released. The other six will be released two at a time over the next few months. Hit the jump for print specifics, full versions and a sneak peak at the remaining prints in the series.
The first two prints, Kessel Run and Racing Through... are each 13 x 19 giclees, hand signed and numbered out of a limited edition of 150. They're $89 each and can be purchased at the Acme Limited website.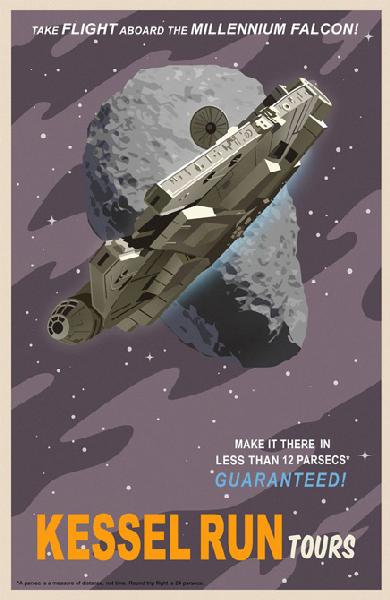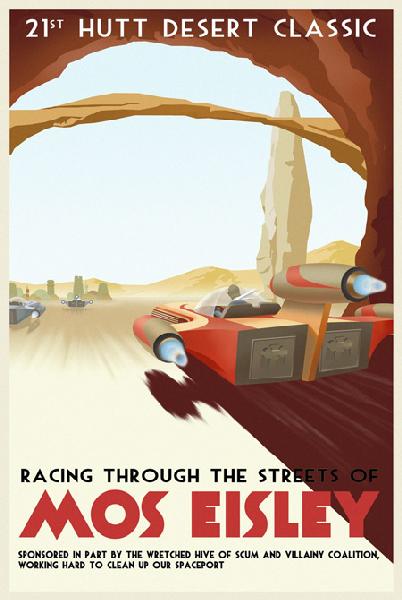 As stated above, the rest of the series is still a few months out, but Acme posted tiny preview images of them: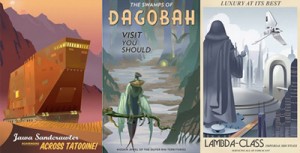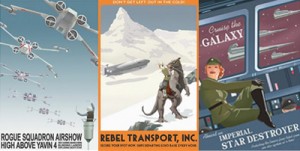 Seems we'll be getting Sandcrawlers Across Tatooine, The Swamps of Dagobah, Lambda (?) on Coruscant, An Air Show on Yavin 4, Transports on Hoth and Cruising on an Imperial Star Destroyer.
Besides the retro feel to all these prints, the best thing is that they didn't go for the obvious tourism jokes. "Pod Racing on Tatooine" or "Ewok Village on Endor" or "Snowboarding on Hoth." Thomas went a little deeper with his references, but not too deep. Each poster rides a thin line between uber geek and simple Star Wars fan. It's a nice touch.
Which is your favorite in the series? Do you think current artists are doing too many Star Wars prints or do you say keep them coming?