Commercial Director Spotlight: Ash Bolland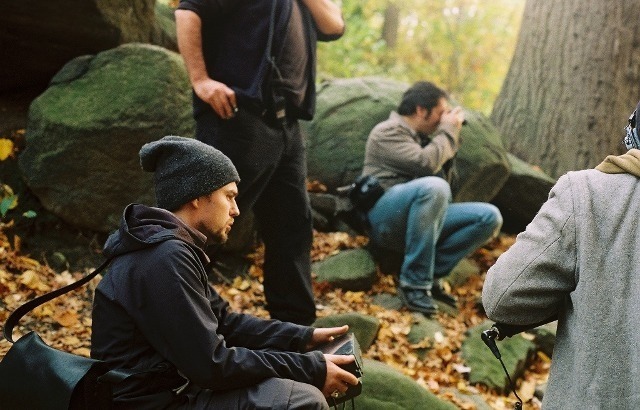 New Zealand-born commercial director Ash Bolland recently became attached to direct his first feature film, a remake of the 1978 Irwin Allen killer bees horror classic The Swarm. Vertigo Entertainment and Room 101 are developing a remake, inspired by the success of Piranha 3D. So who is Ash? What has he done before? Lets take a look in /Film's commercial director spotlight.
Ash not only works as a director, but has also served as cinematographer, editor, 3D artist, compositor, concept designer, graphic designer, colorist and musician, all completely self-taught. Bolland served as the owner of the independent creative studio Umeric for nine years before signing with Anonymous Content over the Summer. His official bio on Umeric describes Ash as "a director who is committed to crafting incredibly unique, sophisticated images that engages the viewer with big, bold cinematic ideas, making the ordinary extraordinary. But, always keeping an authentic sensibility." Here is some information about his award winning advertising/commercial campaigns:
Award-winning campaigns for MTV – Organic and Genetically Modified HD – highlight his commercial portfolio, which also includes HP Meet or Delete (with MTV International), a Man vs. Wild spot for Discovery Channel, and Swatch Playground. Bolland's awards include a slew of PromaxBDA gold and silver awards in multiple categories, from best overall ad campaign to best 3D animation design, for work in the US and abroad. He also earned the Juice TV NZ Awards for Best Electronic Music Video two years in a row, for Shapeshifter's LWC and Salmonella Dub's Nu Steppa. A popular speaker, Bolland has delivered lectures in Malaysia (KL Design Week 2009), New Zealand (Semi-Permanent 2007, SPARC 2002), Australia (AGIdeas 2007, RPRSNT 2005, Digit Conference 2003 and '02), Japan (CBNET 2005), and Spain (OFFF 2005).
See some of Bolland's commercial work below:
Niki "Yi"
Hyundai A-League 'Verson 2'
Discovery Channel 'Man Vs Wild' with Bear Grylls
MTVN HD 'Genetically Modified HD' SPOT A
MTVN HD 'Genetically Modified HD' SPOT B
Swatch+MTV Playground
HBO 'Unexpected'
ShapeShifter 'Long White Cloud'
'Birth' HP-MTV Meet or Delete
Pacific Heights 'Frozen Fears'
Christchurch Arts Festival 'PowerPlant'
Royal Elastics 'Feilfri'