Cool Stuff: Martin Ansin's 'A Wretched Hive' 'Star Wars' Poster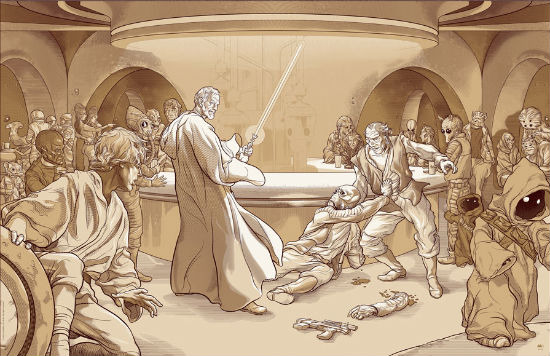 You've probably coveted many of artist Martin Ansin's previous prints. His two Scott Pilgrim posters kick ass, his Imaginarium of Dr. Parnassus is gorgeous and his Star Trek poster is one of the most sought after in recent memory. Now, Ansin is the latest artist to take a crack at the Star Wars poster series presented by Mondo Tees. His print, called A Wretched Hive, dramatizes one of the most classic moments in all of Star Wars, Obi-Wan Kenobi's severing of an arm in the Mos Eisley Cantina. There are so many classic characters in this print that it almost amounts to a really easy Star Wars version of Where's Waldo. It even features the series' first non-Carbonite appearance of Han Solo. Hit the jump for all the specifics.
Here's what Ansin had to say about his inspiration for the print.
I've always liked that scene in Reign Of Fire where these post-apocalyptic survivors re-enact Star Wars scenes for their children; in the future, the stories that we really like have become legends. For this poster I tried to do something similar, but in the opposite direction in time. I wanted to see how the cantina scene would look if it had been illustrated for an old book, if Star Wars was a traditional epic adventure sharing space with King Arthur and Beowulf. Who knows, maybe sometime in the future it will.
To that aim, A Wretched Hive comes in two editions – a regular and a variant. Both are 24 x 36 but the regular has an edition size of 360 and costs $50 while the variant, which is printed with metallic inks (and looks way cooler, in my opinion) is limited to 150 and costs $85. Both go on sale at a random time Thursday. Follow @MondoNews on Twitter to find out when. Check them out below.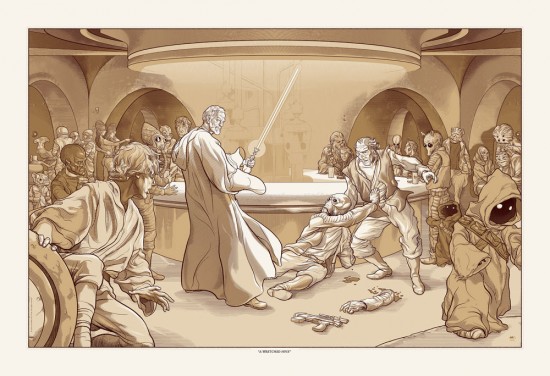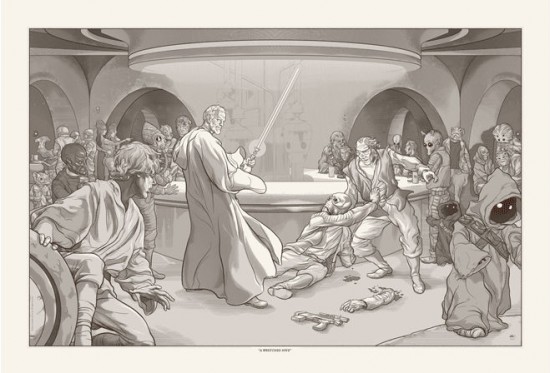 You can check out the last Star Wars print here, and read about the first half of the series here.
What do you guys think of this one? Another home run by Mondo?
Source: BoingBoing