AMC Now Serving Food In Theater, Alamo Drafthouse Style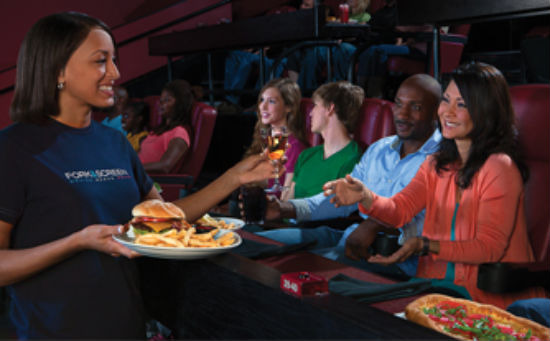 There is nothing quite like the simultaneous combination of dinner and a movie. You sit down, order food, watch a movie, and someone then quietly brings out your order while you're watching. It's one of the things that makes the Alamo Drafthouse so fantastic and AMC Theaters is now rolling out their own unique version. AMC Dine-In Theaters are currently open in Atlanta, Georgia, Olathe, Kansas and Kansas City, Missouri with one opening in West Orange, NJ on Wednesday. Two additional New Jersey locations, and one near Dallas, Texas, will open by the end of the year. Check out a full list of theaters, menus, and the differences between AMC and the Drafthouse after the break.
What's unique about the AMC Dine-In experience, as opposed to say the Drafthouse, is that there are two levels of dining. There's the Fork and Screen, which is basically dining at regular, reserved seats, and then there's the Cinema Suites, which feature a much more spacious, comfortable reserved chair, with a bigger selection of food. Prices will vary at each location but a Fork and Screen ticket will cost roughly $10 more than the standard movie ticket and the Cinema Suites are about $15 more. However, that additional cost is then deducted from your bill. So though you are paying a premium up front, really it's just an insurance in case you only order a small appetizer.
You can check out a Fork & Screen menu by clicking here and a Cinema Suites menu by clicking here. Prices seem reasonable – cheap actually – if you figure a large popcorn is usually like $7. Ten bucks for a burger or $5 for a milkshake really isn't that bad considering a large combo can be $14. Plus, you can drink. Which is always nice in a movie theater.
Here's how the AMC Dine-In website describes the experience.
Select your movie, showtime and reserved seating preference.
Price includes your movie ticket plus an experience upcharge.
Menus are available at your seat. Press the call button and a server will arrive to take your order.
Relax and enjoy the movie while you dine at your seat. If you need anything else, simply press the call button.
The server will deliver your check before the end of the film. A portion of the bill, up to the total of the experience charge will be deducted from your bill.
The theaters that already are doing this are the AMC Essex Green 9 in West Orange, New Jersey, the AMC Fork & Screen Buckhead 6 in Atlanta, GA, the AMC Studio 30 in Olathe, Kansas and the AMC Mainstreet 6 in Kansas City, Missouri.
And it's coming to the AMC Bridgewater Commons 7 in Bridgewater, New Jersey on November 22, the AMC Grapevine Mills 30 in Grapevine, Texas on December 8 and the AMC Menlo Park 12 in Edison, New Jersey on December 15.
All those theaters will also have a bar area called "MacGuffins," named after the famous Hitchcock term.
Everyone is going to compare these theaters to the Alamo Drafthouses and rightfully so. The main difference, of course, is that there's no additional charge at the Drafthouse. But then again, at the Drafthouse you don't get a premium, reserved seat when you eat, so each has their positives and negatives.
Has anyone tried one of these yet? Better yet, has anyone tried one of these and also been to an Alamo Drafthouse? We'd love to hear how the experiences compare.
Source: GeekTyrant