Movie Trailer: Catherine Hardwicke's 'Red Riding Hood' Starring Amanda Seyfried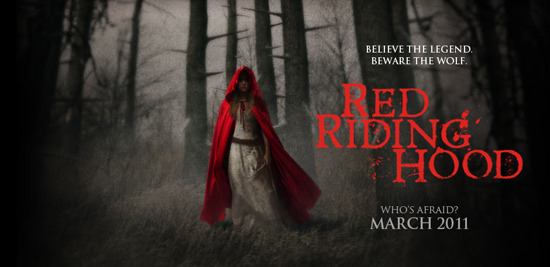 Catherine Hardwicke may not have really been given the chance to play with werewolves in the Twilight series, but she's done the next best thing: she's directed Red Riding Hood, in which Amanda Seyfried and Gary Oldman are inhabitants of a medieval village that is beset by a werewolf.
Sadly, if predictably, the film looks to be going for tone and content that is very similar to Twilight. The first trailer just hit, and you can see it after the break.
I caught this trailer last night projected in front of Harry Potter, and it drew big jeers for the combination of 'forbidden romance' and 'from the director of Twilight.' I can't say I disagree with the groans and chuckles, even though there are some really nice images here. But for every great-looking shot, there's a dramatically stagebound-looking counterpart. And while Amanda Seyfried's performance may be good in context, this trailer isn't doing her any favors with that couplet "It killed again... the wolf."
Gary Oldman does look entertaining, however; maybe some of the rest of the supporting cast can deliver as well. And the final shot is a great kicker.
That shot also suggests there may be a bit more here than the Twilight-y stuff that makes up the bulk of the trailer. Is this edit just a clever way to sell this to Twihards? If so, bravo. If not, and that's really the intent of the film, I'll just accept that this one isn't meant for me and move on.
One question: is that The Knife or Fever Ray that kicks in partway through? Sounds rather like the voice of Karin Dreijer Andersson. Also, with respect to music: Inception horns! Of course.
Red Riding Hood co-stars Billy Burke, Shiloh Fernandez, Max Irons, Virginia Madsen, and Julie Christie. It opens March 11, 2011.Apple has the HD version of the trailer and this synopsis:
In "Red Riding Hood," Seyfried plays Valerie, a beautiful young woman torn between two men. She is in love with a brooding outsider, Peter (Shiloh Fernandez), but her parents have arranged for her to marry the wealthy Henry (Max Irons). Unwilling to lose each other, Valerie and Peter are planning to run away together when they learn that Valerie's older sister has been killed by the werewolf that prowls the dark forest surrounding their village. For years, the people have maintained an uneasy truce with the beast, offering the creature a monthly animal sacrifice. But under a blood red moon, the wolf has upped the stakes by taking a human life. Hungry for revenge, the people call on famed werewolf hunter, Father Solomon (Gary Oldman), to help them kill the wolf. But Solomon's arrival brings unintended consequences as he warns that the wolf, who takes human form by day, could be any one of them. As the death toll rises with each moon, Valerie begins to suspect that the werewolf could be someone she loves. As panic grips the town, Valerie discovers that she has a unique connection to the beast–one that inexorably draws them together, making her both suspect...and bait.