Movie Posters: Paul, The Mechanic, Gnomeo And Juliet, The Rite, The Dilemma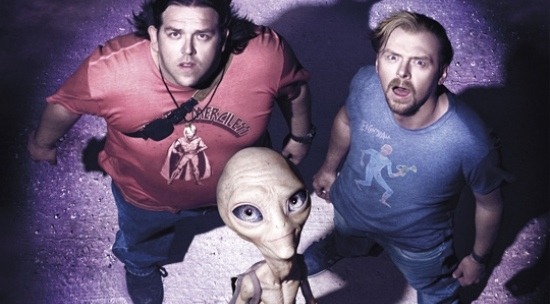 A bunch of new movie posters have hit the web over the last 12 hours, including new one-sheets for Greg Mottola's sci-fi comedy Paul starring Simon Pegg, Nick Frost, Jason Bateman, Kristen Wiig, and Bill Hader, The Mechanic remake starring Jason Statham, Ben Foster, and Donald Sutherland, the computer animated feature Gnomeo and Juliet, the horror/thriller The Rite starring Anthony Hopkins, the Ron Howard-directed comedy The Dilemma starring Vince Vaughn and Kevin James. Hit the jump to see the posters.
Moviefone has premiered the poster for The Mechanic: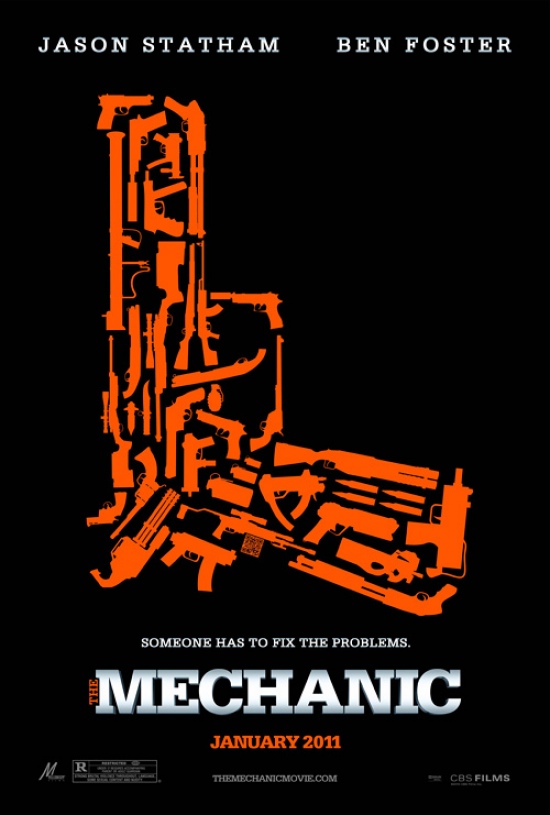 Empire Magazine has premiered a new international poster for Paul: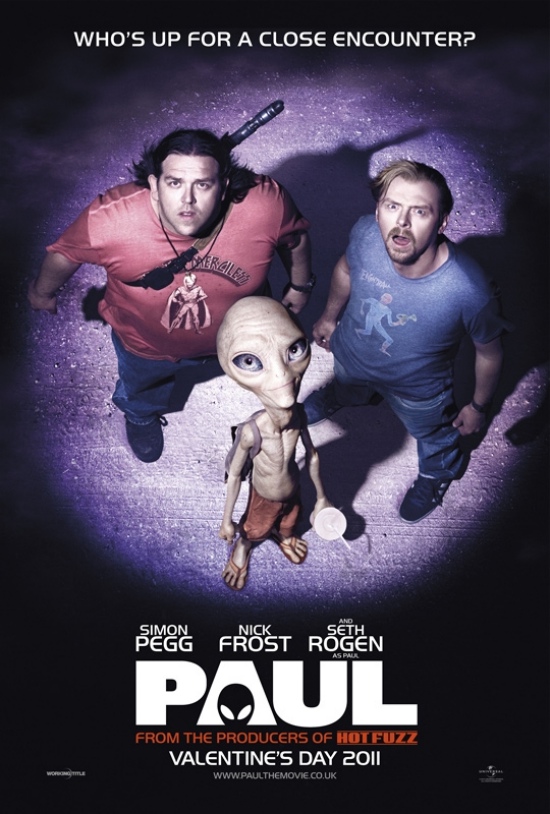 PAUL March 18, 2011
Genre: Comedy adventure
Cast: Simon Pegg, Nick Frost, Jason Bateman, Kristen Wiig, Bill Hader, Blythe Danner, Joe Lo Truglio, John Carroll Lynch, David Koechner, with Sigourney Weaver and Seth Rogen as the voice of Paul
Directed by: Greg Mottola
Written by: Simon Pegg & Nick Frost
Produced by: Nira Park, Tim Bevan, Eric Fellner
Executive Producers: Liza Chasin, Debra Hayward, Robert Graf
Simon Pegg and Nick Frost (Hot Fuzz, Shaun of the Dead) reunite for the comedy adventure Paul as two sci-fi geeks whose pilgrimage takes them to America's UFO heartland. While there, they accidentally meet an alien who brings them on an insane road trip that alters their universe forever.
For the past 60 years, an alien named Paul (voiced by Seth Rogen) has been hanging out at a top-secret military base. For reasons unknown, the space-traveling smart ass decides to escape the compound and hop on the first vehicle out of town—a rented RV containing Earthlings Graeme Willy (Pegg) and Clive Collings (Frost).
Chased by federal agents and the fanatical father of a young woman that they accidentally kidnap, Graeme and Clive hatch a fumbling escape plan to return Paul to his mother ship. And as two nerds struggle to help, one little green man might just take his fellow outcasts from misfits to intergalactic heroes.
Paul is directed by Superbad's Greg Mottola, from a story by Pegg & Frost. Joining the comedy's cast are Jason Bateman, Kristen Wiig, Bill Hader, Blythe Danner, Joe Lo Truglio, John Carroll Lynch, David Koechner and Sigourney Weaver.
Stitch Kingdom has the poster for Gnomeo and Juliet: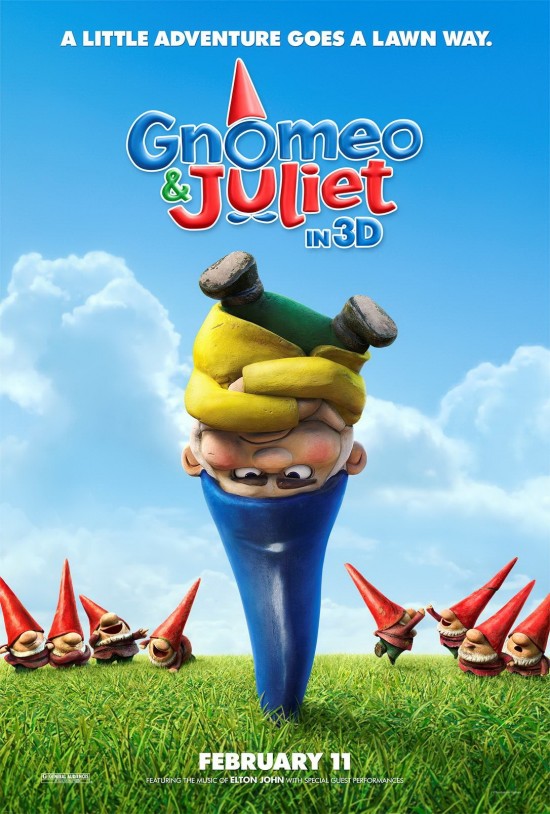 Genre: Animation/Comedy Adventure
Rating: G
U.S. Release Date: February 11, 2011
Voice Cast: James McAvoy, Emily Blunt, Michael Caine, Jason Statham, Maggie Smith, Patrick Stewart, Ashley Jensen, Stephen Merchant, Matt Lucas, Jim Cummings,
Julie Walters, Richard Wilson, Ozzy Osbourne
Director: Kelly Asbury
Producers: Baker Bloodworth, Steve Hamilton Shaw, David Furnish
Executive Producer: Elton John
Songs by: Elton John and Bernie Taupin
Original Score by: James Newton Howard and Chris Bacon
The greatest love story ever told, starring...garden gnomes? In the upcoming "Gnomeo & Juliet," Shakespeare's revered tale gets a comical, off-the-wall makeover. Directed by Kelly Asbury ("Shrek 2") and showcasing both classic and original songs by Elton John, the film features the voices of James McAvoy and Emily Blunt as Gnomeo and Juliet, who have as many obstacles to overcome as their quasi namesakes when they are caught up in a feud between neighbors. But with plastic pink flamingos and thrilling lawnmower races in the mix, can this young couple find lasting happiness?
Two garden gnomes, Gnomeo (voice of James McAvoy) and Juliet (voice of Emily Blunt), try to avoid tragedy and find a happy ending to their star-crossed love affair when they are caught up in a feud between neighbors.
Warner Bros has released the poster for the The Rite:
THE RITE
"Choosing not to believe in the Devil won't protect you from him."
–Father Lucas
Inspired by true events, "The Rite" follows skeptical seminary student Michael Kovak (Colin O'Donoghue), who reluctantly attends exorcism school at the Vatican. While in Rome, he meets an unorthodox priest, Father Lucas (Anthony Hopkins), who introduces him to the darker side of his faith.
Directed by Mikael Håfström ("1408"), "The Rite" is a supernatural thriller that uncovers the devil's reach to even one of the holiest places on Earth. Contrafilms' Beau Flynn and Tripp Vinson ("The Exorcism of Emily Rose") are producing the film. The screenplay was penned by Michael Petroni (upcoming "The Chronicles of Narnia: The Voyage of the Dawn Treader"), inspired by the book by Matt Baglio. Christy Fletcher and Emma Parry are co-producing. Richard Brener, Merideth Finn and Robert Bernacchi serve as executive producers.
Hopkins stars as Father Lucas. An Oscar® winner for his iconic portrayal of Dr. Hannibal Lecter in "The Silence of the Lambs," Hopkins' impressive career includes "The Remains of the Day" and this year's "The Wolfman," as well as the upcoming comics-based film "Thor."
Making his feature film debut, O'Donoghue stars as Michael Kovak, the disillusioned American seminary student.
Alice Braga plays the role of Angeline, a journalist in Rome doing research on exorcisms. Braga will next be seen this summer in "Predators." Her additional credits include "I Am Legend" and "City of God."
Ciarán Hinds portrays Father Xavier. Known for his role as Gaius Julius Caesar in HBO's "Rome," Hinds will soon be seen in the upcoming "Harry Potter and the Deathly Hallows" films.
Toby Jones plays the role of Father Matthew. Jones has appeared in such films as "Frost/Nixon," "Harry Potter and the Chamber of Secrets" and "The Painted Veil" and will soon be seen in "Captain America: The First Avenger."
Veteran actor Rutger Hauer takes on the role of Michael's father, Istvan Kovak. Hauer's career includes roles in "Blade Runner," "The Hitcher," "Sin City" and "Batman Begins."
Håfström previously directed the John Cusack thriller "1408," and "Derailed," starring Clive Owen and Jennifer Aniston. His most recent film, "Shanghai," also starring John Cusack, will be in theaters later this year. His film "Evil," which he wrote and directed, was nominated for Best Foreign Language Film at the 2004 Academy Awards® and won three Swedish Guldbagge Awards, including Best Film.
Slated for release in January 2011, New Line Cinema's "The Rite" will be distributed by Warner Bros. Pictures, a Warner Bros. Entertainment Company.
Universal Pictures has released the poster for The Dilemma: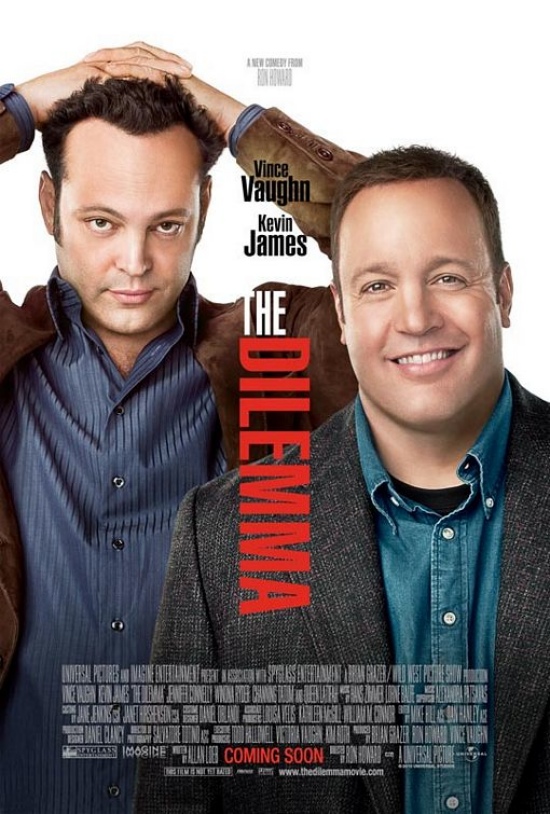 Synopsis:
Genre: Comedy
Cast: Vince Vaughn, Kevin James, Jennifer Connelly, Winona Ryder, Channing Tatum and Queen Latifah
Directed by: Ron Howard
Written by: Allan Loeb
Produced by: Brian Grazer, Ron Howard, Vince Vaughn
Executive Producers: Todd Hallowell, Victoria Vaughn, Kim Roth
Vince Vaughn and Kevin James headline an all-star comedy from director Ron Howard and producer Brian Grazer about a man who finds out that what you don't say to a friend is just as important as what you do. Jennifer Connelly, Winona Ryder, Channing Tatum and Queen Latifah join them in The Dilemma, a story of how far you can bend a brotherly bond before it snaps.
Since college, confirmed bachelor Ronny (Vaughn) and happily married Nick (James) have been through thick and thin. Now partners in an auto design firm, the two pals are vying to land a dream project that would launch their company. With Ronny's girlfriend, Beth (Connelly), and Nick's wife, Geneva (Ryder), by their sides, they're unbeatable.
But Ronny's world is turned upside down when he inadvertently sees Geneva out with another man and makes it his mission to get answers. As the amateur investigation dissolves his world into comic mayhem, he learns that Nick has a few secrets of his own. Now, with the clock ticking and pressure mounting on the biggest presentation of their careers, Ronny must decide how and when he will reveal the truth to his best friend.