Unofficial Movie Trailer: 'Faster,' The Rampage Version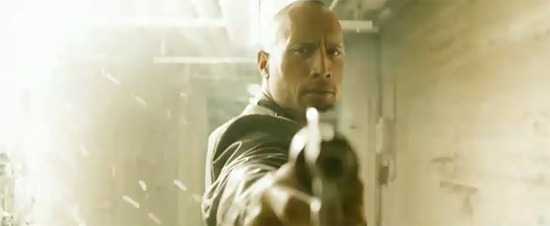 This is how I want my action movie trailers to play. Blocky fonts, a fake Cannon Films logo, music by The Sword and Rocket From the Crypt, and a whole bunch of arse-kickery. Garrison Dean (who contributes to io9) cut this trailer for Faster starring Dwayne Johnson...er, The Rock, and it is a burly, effective ninety seconds of video.
The last work we saw along these lines from Garrison Dean was his manly trailer for The Expendables, and this 'Rampage' trailer for Faster actually works even better. It is simple and aggressive –some action sequences, the guy you hoped might become a real action star, boom.
So, memo to studio and the companies they hire to cut trailers for films like Faster: please cut trailers like this. No one makes the mistake of thinking a film like Faster is serious or important. So make it look fun. Serious fun, OK, but still, emphasize fun. If this trailer played in a theater it would sell audiences on the movie in a second.
After 10 years in prison, Driver (Dwayne Johnson) has a singular focus – to avenge the murder of his brother during the botched bank robbery that led to his imprisonment. Now a free man with a deadly to-do list in hand, he's finally on his mission...but with two men on his trail – a veteran cop (Billy Bob Thornton) just days from retirement, and a young egocentric hitman (Oliver Jackson-Cohen) with a flair for the art of killing and a newfound worthy opponent. The hunter is also the hunted. It's a do or die race to the list's finish as the mystery surrounding his brother's murder deepens, and new details emerge along the way hinting that Driver's list may be incomplete.
Also appearing are Carla Gugino (Watchmen), Maggie Grace (Taken) and Moon Bloodgood (Terminator Salvation). George Tillman Jr. (Notorious, Men of Honor, Soul Food) directs from a screenplay written by Joe and Tony Gayton. Faster wrapped principal photography in April 2010 and is scheduled to release in US theaters November 2010.