First Official Image, Poster And Plot Description From 'Cars 2'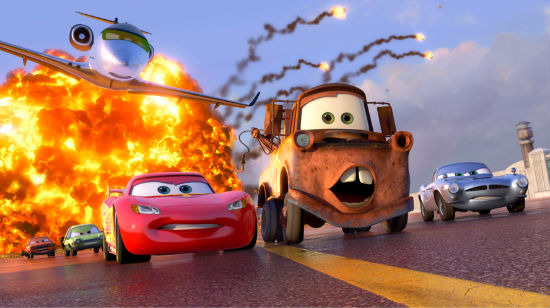 Every year, Pixar seems to outdo themselves. We all thought the beauty of Wall-E couldn't be matched, until Up showed us its balloons. Then we all thought the first 20 minutes of Up was as emotional as animation could get, until we saw the last 20 minutes of Toy Story 3. And when it comes to commercial successes, it's tough to beat Toy Story 3's title as not only Pixar's biggest film yet, but the most successful animated film of all time.
Next up is Cars 2, which comes out June 24, and it certainly won't have an easy road ahead of it. Co-directed by Pixar main man John Lasseter (who directed the first Cars) as well as Brad Lewis, who produced Ratatouille, all we've seen so far is a short teaser trailer and a bunch of concept art. Now we've got the first official image, poster and plot description straight from the Mouse's mouth. Will the film live up to its Pixar predecessors? Read more about it after the break. And check back Tuesday morning for the first official trailer.
Thanks to Hey You Guys for the image and The Playlist for the heads up. Click it for a bigger version.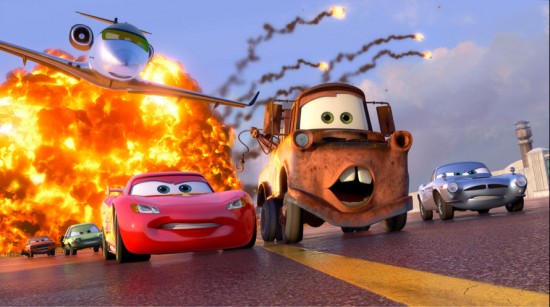 Here's the official plot description from Disney.
Star racecar Lightning McQueen (voice of Owen Wilson) and the incomparable tow truck Mater (voice of Larry the Cable Guy) take their friendship to exciting new places in "Cars 2" when they head overseas to compete in the first-ever World Grand Prix to determine the world's fastest car. But the road to the championship is filled with plenty of potholes, detours and hilarious surprises when Mater gets caught up in an intriguing adventure of his own: international espionage.  Torn between assisting Lightning McQueen in the high-profile race and towing the line in a top-secret spy mission, Mater's action-packed journey leads him on an explosive chase through the streets of Japan and Europe, trailed by his friends and watched by the whole world. Adding to the fast-paced fun is a colorful new all-car cast that includes secret agents, menacing villains and international racing competitors.
That's exactly what we had heard. It seems like the film is an animated, talking car mash-up of Days of Thunder and a James Bond film.
Finally, here's the official poster (Updated after initial post, thanks to Yahoo.)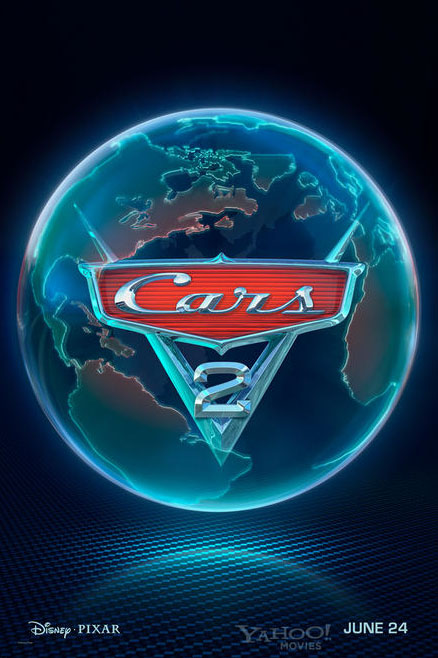 I don't even think the people at Pixar would argue that Cars is probably one of, if not their most, lowly regarded films in terms of fan support. Granted, a lowly regarded Pixar film still ranks higher than most animation but still, Cars is near the bottom of the Pixar barrel and there's no way the company isn't aware of that. And while it might be their biggest franchise in terms of merchandising, one can only hope that has nothing to do with this film getting released. Let's hope this sequel can up the ante, especially emotionally, from the first film and continue their fantastic track record.
Do you think Pixar is up to the challenge or is Cars 2 just going to be a 90 minute Matchbox commercial?