New Image From Disney's Adaptation Of Berkeley Breathed's 'Mars Needs Moms'

We've seen one poster image (with a strong Close Encounters vibe) for the Disney film Mars Needs Moms. Now there's a new image from the film that shows off both the aliens and a couple of human characters.The film's title always makes me assume it's a kitschy kids film — which would be fine — but then I remember that it is based on the book of the same name by venerable Bloom County creator Berkeley Breathed. And that's just fine. So keep that in mind, and check out the full image after the break.
Mars Needs Mom is a performance capture film produced by Robert Zemeckis and directed by The Prince of Egypt/The Time Machine helmer Simon Wells. It stars Seth Green, Joan Cusack and Dan Fogler.
Click the image to enlarge.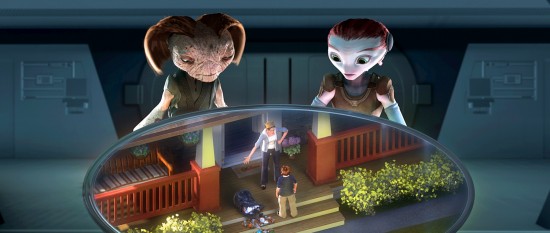 So... is it just me, or does that inset image of the humans look a little bit like The Sims? Or a lot like The Sims?
Thoughts?
Here is the official movie plot description:
Take out the trash, eat your broccoli – who needs moms, anyway? Nine-year-old Milo finds out just how much he needs his mom when she's nabbed by Martians who plan to steal her mom-ness for their own young. Milo embarks on a quest to save his mom – a wild adventure that involves stowing away on a spaceship, navigating an elaborate, multi-level planet and taking on the alien nation and their leader. With the help of a tech-savvy, underground earthman named Gribble and a rebel Martian girl called Ki, Milo just might find his way back to his mom – in more ways than one.
Mars Needs Moms! is scheduled to hit theaters on March 11th 2011 in Digital Disney 3D and IMAX 3D.
[StitchKingdom, and thanks to Kirk for the email heads-up]