'Easy A' Director Will Gluck Reuniting With Emma Stone For New Comedy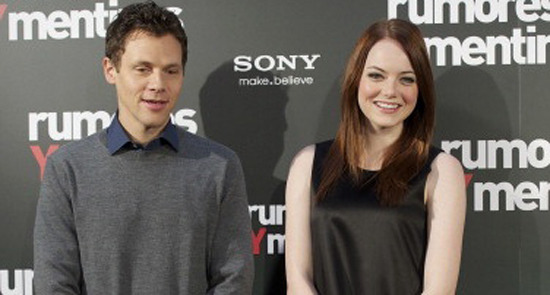 Easy A is shaping up to be one of my favorite pieces of entertainment from this past summer, and possibly for the year. It's not the best film I've seen by a stretch, but it is one of the most entertaining in a pure sense. Of a lot of my faves from 2010 it is high on the list of things I'd throw in the DVD player to kill a couple hours.
So it's good news that the film's director and star, Will Gluck and Emma Stone, are going to make another comedy together.
Deadline says that Mr. Gluck will write, direct and produce. That's the one possible snag — I don't know how much influence he and Emma Stone had on the script for Easy A, which was written by Bert V. Royal. That script was a lot of the reason Easy A worked so well — it was smart, sharp, wordly and accessible. All the right steps were taken to put it on the screen, but without that script the movie doesn't happen.
We don't have a title or even a story at this point, but the film is scheduled to shoot next summer. That'll be after Emma Stone shoots Spider-Man, so there won't be any conflict there. Of the re-teaming Screen Gems president Clint Culpepper said,
Will and Emma blossomed in Easy A, which was easily the most well-liked and best critiqued movie Screen Gems has made," Culpepper told me. "To have them want to team again at Screen Gems makes me the happiest and luckiest guy in the business. I think he was afraid I might pour a glass of iced tea over his head had he tried to go anywhere else.