First Look: Amanda Seyfried In 'Red Riding Hood'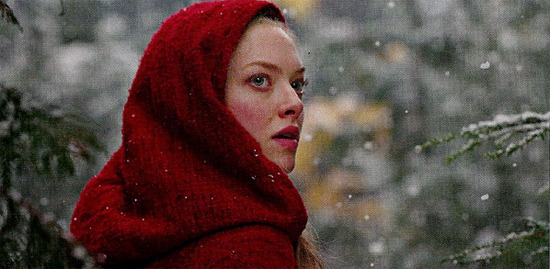 UPDATE: There is a tiny bit of footage available now, too. It's embedded below, and the footage is right towards the end of the embed clip. Original article follows.
Here's your first look at Amanda Seyfried as the title character in Catherine Hardwicke's Red Riding Hood. The scan comes from the latest issue of Entertainment Weekly, which also has a few quotes from the director about her new film.
STYD got the scan, in which Catherine Hardwicke teases the film saying "there's a strong whodunnit through the whole thing...So it's god the weird, interesting parts of Grimm's fairy tale, and then so much more."
We still know little more than the basics of the story, in which a version of the classic Little Red Riding Hood tale is set in a medieval village beset by a werewolf. Lucas Haas and Shiloh Fernandez (seen below) are in the cast, as is Virginia Madsen (as the mother of Amanda Seyfried's character), Julie Christie and Gary Oldman, who plays the village priest.