'Star Trek 2' Script Due In December, J.J. Abrams Still Not Confirmed To Direct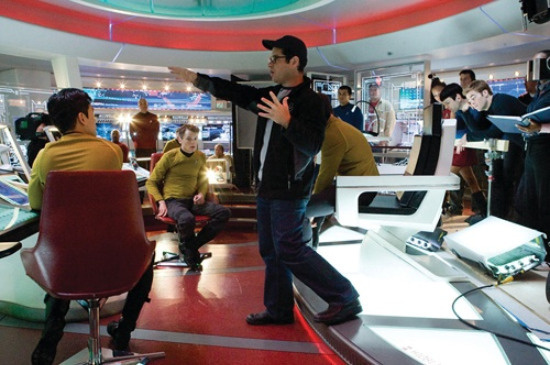 There are very few movies that get a full post about a cryptic script status and a director not being confirmed, but Star Trek 2 qualifies. The 2009 Trek reboot was almost universally praised and the franchise is one of the most classic and successful in film history. A sequel was announced almost immediately after the first film and given a June 29, 2012 release date earlier this year. Co-writers Damon Lindelof, Alex Kurtzman and Roberto Orci have been working on the script for a few months and now, according to reports, they're supposed to submit it to Paramount by December. J.J. Abrams, who directed the first film, is definitely producing, but has yet to commit to directing the sequel. He'll probably make a decision after he finishes Super 8, which is currently filming. Read more after the break.
This news came out of the Viacom earnings call covered by The Hollywood Reporter. On that same call, they discussed Zoolander 2, G.I. Joe 2, TMNT and more. Read about those films by clicking here and Cinema Blend also highlighted the Trek news.
There's been a ton of information and news dropped in recent months about Star Trek 2 and it all seems timed just right with the news of the script's deadline. Damon Lindelof tweeted that he was starting his work on the script in late June and, a few months later, compared what they were doing with it to The Dark Knight.
We're looking at a movie like The Dark Knight, which went one step beyond Batman Begins. It was really about something, and at the same time it was a superhero movie. We don't want to abandon all the things that made the first movie work and have it be fun and emotional, but we also really want the movie to thematically resonate.
All throughout the process, everyone was talking about Kahn possibly being the villain then, three weeks ago, news broke that he wouldn't be. Instead, it's going to be a classic character from the original series, according to Badass Digest.
It's definitely a character that will make fans of TOS excited. Think along the lines of Harry Mudd or Trelane or Gary Mitchell or the Talosians or the Horta. Actually it's one of those that I named.
As for Abrams, Paramount wants him to direct and, just because he hasn't been confirmed yet, that doesn't mean he's not going to do it. He's been talking about the film and his involvement for a while and probably just wants to concentrate on one Paramount film at a time. Super 8 is due this June and production for Star Trek 2 is rumored to be starting soon after, which would work out perfectly if the first draft comes in next month.
Is everyone still as excited for this film as they are the moment they walked out of the theater last summer?