Rumor Of The Day: Robert De Niro And Joe Pesci To Reunite For 'Uncharted: Drake's Fortune'?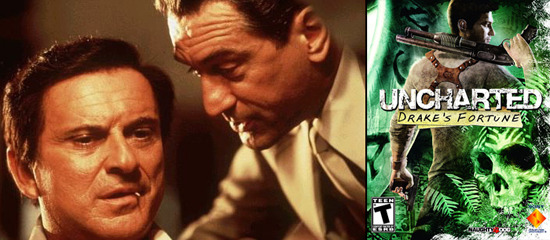 Last time we heard about a potential reunion of Robert De Niro and Joe Pesci, it was a pretty credible story. Word was that the actors might both show up (along with Al Pacino) in Martin Scorsese's long in development The Irishman, based on Charles Brandt's book I Heard You Paint Houses. But that film is a ways off, so anything could happen. This new story, which drops the two actors into Sony's upcoming action/adventure video game adaptation Uncharted: Drake's Fortune, is a lot less credible.
It comes from Roger Friedman, who despite a not-too-bad 50/50 track record, I'd guess is quite wrong this time. He says the two actors might both show up in David O. Russell's Uncharted. As, er, what, exactly? One of the actors could potentially play Sully, the older partner of main character Nathan Drake. (Who, Roger Friedman says, could be played by Mark Wahlberg.) As for the other half of the speculative De Niro / Pesci reunion, I'm sure the script will end up with a suitable villain role.
The more believable half of this story is the idea that David O. Russell is going to throw out most of the video game's story elements and start from scratch, using just the title and concept of a young treasure hunter. There have been other pitches to Sony that proposed doing exactly that, and let's face it: most video game stories are hardly sacrosanct. The Uncharted games are well-written, but they're well-written as games. There's a lot that could be changed, and probably should be changed, to put the story on movie screens.
But what of the script by Thomas Dean Donnelly and Joshua Oppenheimer, which Sony reportedly liked enough to push the film forward as a priority? This story presupposes that David O. Russell is throwing out or rewriting their draft. Lot of unconfirmed and seemingly speculative stuff here.
Here's a quick recap of the first of the two Uncharted games:
The story features Nate Drake, a descendant of Sir Francis Drake. Nate is being shadowed by journalist Elena Fisher as he searches for the coffin of his forefather. When found, the object contains a diary that seems to point to El Dorado, and Nate and Elena are soon involved in a run and gun tale featuring pirates, lost gold and mutant humans.