International Teaser Trailer: 'Battle: Los Angeles'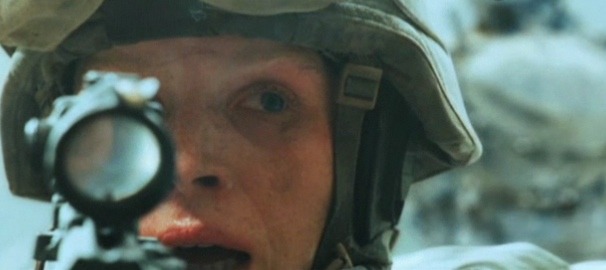 Last night, Sony released the first teaser trailer for Jonathan Liebesman's Battle: Los Angeles. Collider has now found an international version of the trailer on Omelete. The international release is much different, more like a traditional Hollywood trailer — featuring heavy voice over, different footage, and lacks the haunting music of the domestic teaser. For those who haven't been following the project, Battle has been described as a Black Hawk Down-style military story set in an alien invasion.
Watch the international trailer now embedded after the jump. Please leave your thoughts in the comments below!
Official Plot Synopsis:
When unknown forces suddenly and mercilessly attack the City of Angels out of nowhere, it's up to a local Marine staff sergeant (Aaron Eckhart) and a new platoon of unseasoned soldiers to meet the threat. As the invasion hits the streets of LA, these Marines become our first and last line of defense in an intense battle against an enemy unlike any they've ever encountered before.
Battle: Los Angeles hits theaters on March 11th 2011.