Jane Lynch, Donald Glover And Danny Trejo Join 'The Muppets'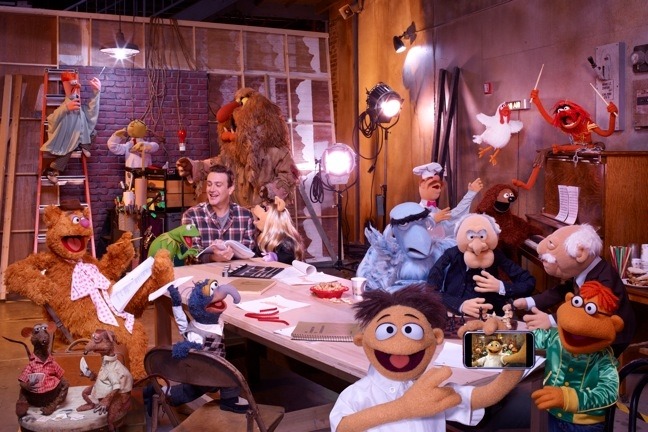 There's quite a lot of small casting news for The Muppets tonight. Jason Segel and Amy Adams have the key roles, and obviously the other biggest parts will mostly be played by the Muppets. Now Jane Lynch, Donald Glover, Danny Trejo and possibly more are on board.
Between The Wrap and Production Weekly we've got a list of new names and, for some, the roles they'll play. This evening Production Weekly said via Twitter:
Hearing that Eric Stonestreet, John Krasinski & Ed Helms may be in Lady Gaga's entourage for "The Muppets", also mentioned Jack Black, Donald Glover, Jane Lynch, Danny Trejo, Zach Galifianakis as Hobo Jo & Paul Rudd as Walter the Muppet.
Wait, what? Lady Gaga's entourage? Does that mean that Lady Gaga will be appearing in the film, too? The Muppets have always had a topical touch, especially when it comes to pop culture figures so I wouldn't be surprised. And she'd be a great foil and/or counterpart for Miss Piggy. We'd heard about a lot of potential celebrity cameos in the film, so having Lady Gaga running around with Ed Helms and John Krasinski would certainly fit in, and oddly be an appropriate part of the Muppet world.
Sadly, Production Weekly backtracked on the idea of Paul Rudd voicing Walter, the new iPhone-wielding Muppet. But we know that Jane Lynch will be a prison guard and Danny Trejo a prisoner. (Didn't see that role coming for Trejo, did you?)
Also in the cast are Rashida Jones and Chris Cooper, with the latter playing the villain. James Bobin is directing from a script by Jason Segel and Nicholas Stoller.
Previously:
The film will be in the tone of the classic Muppet films like The Muppet Movie, The Great Muppet Caper, and Muppets Take Manhattan.
Segel will play the lead role, a human named Gary, whose best friend is the puppet bear Walter. Together they go on a journey with Gary's girlfriend Mary to defeat the evil Tex Richman, a man who doesn't find the Muppets funny and thinks he can smell oil beneath their studio. There are plenty of celebrity cameos written into the script (including Sean Penn) and Segel apparently got verbal commitments from most of the stars during the writing process.