Movie Trailer: 'The Eagle,' Formerly 'The Eagle Of The Ninth'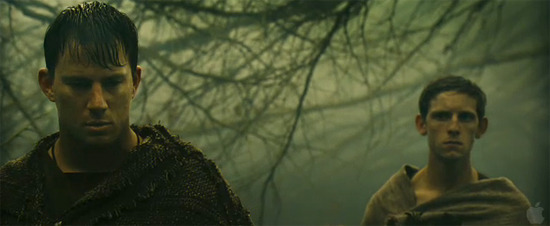 There is now a trailer for The Eagle, formerly The Eagle of the Ninth, from director Kevin Macdonald (State of Play, The Last King of Scotland, One Day in September). The film trods similar ground to Neil Marshall's Centurion in that both films are about the fabled Ninth Roman Legion, which disappeared in the mists of Scotland.
While Neil Marshall's film was overtly a bloody action picture, this is more clearly an action-tinged story of loyalty and class, as Channing Tatum plays the son of the Ninth Legion's vanished commander, and Jamie Bell the slave who journeys north with him to find the legion's missing eagle standard. Check out the trailer after the break.
I'm trying to give Channing Tatum a chance, because despite serious missteps like GI Joe, he can do good work. I'm not quite sold on him here, but I love how devious and menacing Jamie Bell plays his role. And while the bloodbath of Centurion is fun and appealing as passive entertainment, this is really the Eagle of the Ninth film I was hoping for when I saw that two competing films were in production. And qualms about Mr. Tatum aside, I've seen very little to make me doubt the abilities of Kevin Macdonald at this point.
Here's the synopsis via Apple, which also has the trailer in HD.
In 140 AD, two men – master and slave – venture beyond the edge of the known world on a dangerous and obsessive quest that will push them beyond the boundaries of loyalty and betrayal, friendship and hatred, deceit and heroism...The Roman epic adventure THE EAGLE stars Channing Tatum and Jamie Bell and is directed by Academy Award winner Kevin Macdonald. 20 years earlier, Rome's 5,000-strong Ninth Legion, under the command of Flavius Aquila, marched north carrying their treasured golden Eagle emblem. They never returned; Legion and Eagle simply vanished into the mists. Hearing a rumor that the Eagle has been seen in a tribal temple in the far north, Flavius' son Marcus (Tatum), determined to restore the tarnished reputation of his father, is galvanized into action. Accompanied only by his slave Esca (Bell), Marcus sets out into the vast and dangerous highlands of Scotland – to confront its savage tribes, make peace with his father's memory, and retrieve the hallowed Eagle. Along the way Marcus realizes that the mystery of his father's disappearance may well be linked to the secret of his own slave's identity and loyalty – a secret all the more pressing when the two come face-to-face with the warriors of the fearsome Seal Prince (Tahar Rahim).