Rachel McAdams Says 'Sherlock Holmes 2' Script Not Done; Might Not Reappear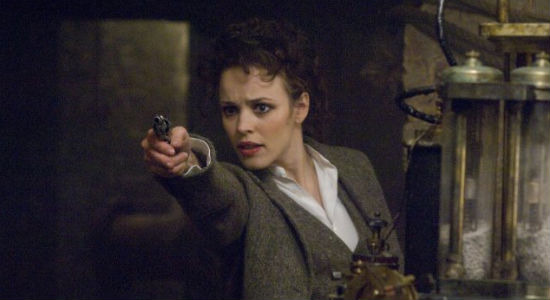 It seems things on Sherlock Holmes 2 aren't as cut and dry as once believed. The sequel, directed by Guy Ritchie and starring Robert Downey Jr., Jude Law as well as Noomi Rapace, Stephen Fry and Jared Harris, has been shooting for several weeks and though producer Joel Silver said that Rachel McAdams, who played Irene Adler in the first film, would return, the actress herself isn't quite so sure.
In an interview promoting her new film Morning Glory, McAdams said "It's kind of all still in the process. They're still doing script work, and we'll see." She didn't totally rule it out, but also added "If I do, it won't be a very big thing."
Wait, so the film has been shooting for several weeks and McAdams still isn't sure whether or not she's going to be in the film? That isn't exactly encouraging. Read more after the jump.
McAdams dropped those quotes in an interview with MTV. And while it's not a nail in the coffin of Sherlock Holmes 2 by any means, it's kind of surprising. Usually, before a film of this size goes into production, the whole thing is scheduled out – including which actors have to be on set each day – because they are in the script. Either Irene Adler fits into the script by Kieran and Michele Mulroney, or she doesn't, and if there's a chance she could be added in after the fact, that indecision isn't encouraging.
As Downey pointed out though, also to MTV, McAdams' character only "only appeared in one of the stories of Doyle's reservoir of activities" so it was "hard to say" if she would be appearing in the film. "We'll find out quickly," he said. In April. So, apparently it didn't happen too quickly.
Still, this kind of thing happens from time to time. The Playlist reminds us that script work was done on set for both Iron Man films and that half worked out. As a film fan, you just have to cross your fingers until December 16, 2011 when Sherlock Holmes 2 is released and hope that people with proven track records like Ritchie, Downey, Law and Silver will pull it off in the end.
Do these quotes raise any red flags for you about this production? Or do you think this type of thing happens more often than not?