'Kung Fu Panda' Director John Stevenson To Helm 'Alien Rock Band'; Vanguard Announces Upcoming Film Slate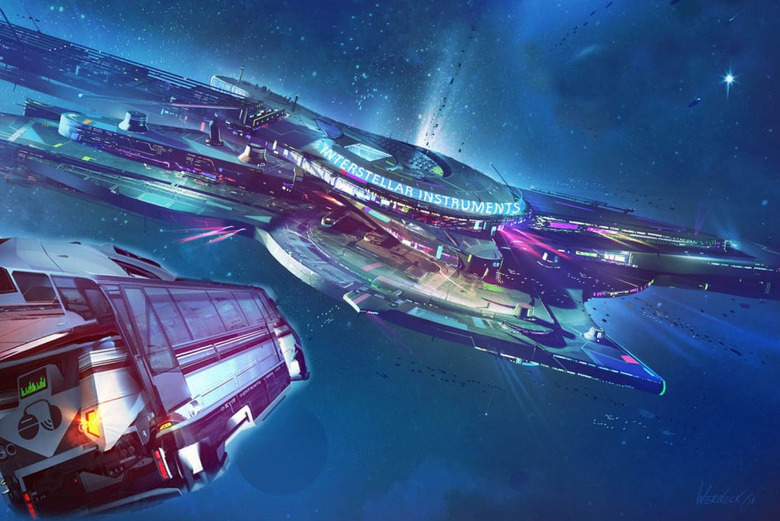 John Stevenson co-directed Kung Fu Panda for DreamWorks Animation, but he's not returning for the sequel. In fact, he won't be working with DreamWorks at all in the coming years, as he's signed a producing/directing pact with Vanguard Films, and already has his next film lined up with them. He'll be directing Alien Rock Band, a live action/CGI hybrid that revolves around a garage band from Earth which journeys across the Universe to qualify for a shot at superstardom in an Intergalactic Battle of the Bands, where they'll have to compete with multi-armed alien monsters. Planned "celebrity cameos"—ugh—include Eminem and Katy Perry. Learn more after the break.
Vanguard as a studio hasn't offered much in the way of competition for Pixar, DreamWorks or Sony, having so far released only Valiant, Happily N'Ever After, Space Chimps and Space Chimps 2: Zartog Strikes Back, none of which impressed critics/audiences or made much money at the box office. Bringing Stevenson on board is a step in the right direction, and that's not all they have planned. According to their press release, they're optimizing a whole new distribution strategy to prepare for their upcoming film line-up, which includes live action films as well as more CG outings.
Here's a rundown of the other films they have on offer:
Rotten Island — A CG picture, based on the book by Shrek author William Steig about "an island where monsters reign free until a beautiful flower changes everything".Buzby — Described as "the world's first high speed animated romantic comedy starring fruit flies". Jason Mayland wrote the script. Annie Award-winner Phil Robinson is attached to direct.City of Dragons — A live-action martial arts movie with supernatural elements set in Shanghai. Said to be in the spirit of Crouching Tiger, Hidden Dragon. Rob Moreland (writer of Happily N'Ever After, and co-writer of Space Chimps) wrote the script.Atomic Circus — A live-action fantasy adventure story featuring a fast-talking con-man in a post-apocalyptic world. Written by Athena Gam.
In addition to directing Alien Rock Band, Stevenson (who was once expected to direct the live action He-Man adaptation Grayskull: The Masters of the Universe) will also be helming Rotten Island, as well as producing Buzby, City of Dragons and Atomic Circus alongside John Williams (Shrek producer and President and CEO of Vanguard Films). The success of Alien Rock Band will probably be heavily dependent on the quality of the music, and with musician Dave Stewart (of the Brit synthpop duo Eurythmics) attached as a producer, it's good to see that the studio is taking that to heart.
(Note that Stevenson's alliance with Vanguard also means that he won't be directing—not anytime soon, anyway—the adaptation of the comic book miniseries We3, the screenplay for which had been hailed as "the single best unproduced script".)
That's some artwork for Alien Rock Band in the image above, and below there's an early conceptual poster for the film. For some character sketches and designs, head over here.