The 2010 Brit List Released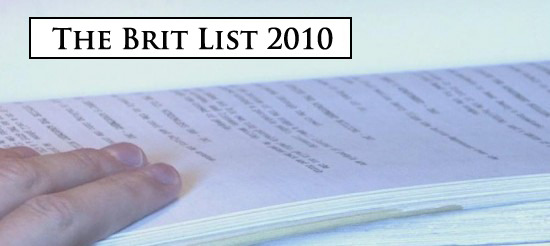 Over the past few years, two lists of unproduced screenplays have become, if not important, at least popular as discussion points. One is the Black List, aka the best unproduced screenplays in Hollywood, where  'best' equals the most popular among a select group of people who vote on their favorites. The UK equivalent is the Brit List, and the 2010 edition of the latter has just been released.
Why pay attention to this? Because a few might already be in production, and quite a few are almost certain to be in production within the next year or two.
Scriptshadow passes along this year's list, albeit with no real commentary. I'd expect my esrtwhile colleague Brendon Connelly over at Bleeding Cool to have some thoughts, but so far all's quiet on that front. A few of the scripts are notable already, such as On Chesil Beach, which at one point had Sam Mendes set to direct. Devotchka is co-written by Gary Young, writer of Harry Brown, and has that film's director (Daniel Barber) attached as well.
Not having read any of these myself I'll have to just present the list for now. If you've read any, please chime in below; many of us are curious to know which of these are more likely to move forward in the coming months. And will the lack of funding from the UK Film Council change which of these are produced?
(Edit: The Playlist did some excellent legwork to collate info on many of the scripts. Their writeup is terrific.)
11 VOTES
SEX EDUCATION by Jonathan Stern and Jamie Minoprio (Casarotto)
Producers: Ruby Films/BBC Films
8 VOTES
CHEERLEADERS by Ben Schiffer (ITG)
Producers: Cloud Eight Films
7 VOTES
HONOUR by Shan Khan (The Agency)
Producers: Dan Films/Parti Productions
SHADOW DANCER by Tom Bradby (Lucas Alexander Whitley (law) Agency)
Producers: Unanimous Pictures/Element Pictures/Wildbunch Production
SONG FOR MARION by Paul Andrew Williams (United Agents)
Producers: Steel Mill Productions
WELCOME TO THE PUNCH by Eran Creevy (ITG)
Producers: Between the Eyes
6 VOTES
BREATHE (aka BACK 2 JACK) by Claire Wilson (Casarotto)
Producers: Element Pictures
ENGAGED by James Condon (unrepresented)
Producers: Silvertown Films
THE ANIMATORS by Clive Dawson (ITG)
Producers: Qwerty Films
5 VOTES
A LONG WAY DOWN BY Jack Thorne (Casarotto)
Producers: Finola Dwyer Productions/Wildgaze Films
GRANNY MADE ME AN ANARCHIST by Ronan Bennett (Tavistock Wood) and Duncan Campbell (United Agents)
Producers: Origin Pictures/Easter Partisan/Film 4
4 VOTES
30 EGGS by Eoin O'Connor (Berlin Associates)
Producers: Treasure Entertainment
BLACKROCK (aka BAD DAY IN BLACKROCK) by Malcolm Campbell (Curtis Brown)
Producers: Element Pictures
FINISHING SCHOOL by Daisy Donovan (ITG)
Producers: Origin Pictures
LAST WILL by Geoff Thompson (Debi Allen Associates)
Producers: Steel Mill Productions
LETTERS FROM AMERICA by Gaia and Hania Elkington (United Agents)
LOVEFEST by Michael Cowen (United Agents)
Producers: Cloud Eight Films/Pathé
THE BRIDE STRIPPED BARE by Andrew Bovell (HLA)
Producers: Forward Films
VALERIO by Kelly Marcel (Casarotto)
Producers: 4DH Films
3 VOTES
3 MINUTE HEROES by Paven Virk (Alan Brodie Representation)
Producers: Mike Elliot
A LITTLE CHAOS by Alison Deegan (The Agency)
Producers: Potboiler
BROKEN by Mark O'Rowe (Curtis Brown)
Producers: Cuba Pictures
DEVOTCHKA by Gary Young (Sara Putt Associates) and Geoff Bussetil (ITG)
Producers: Peapie Films
ELFIE HOPKINS AND THE GAMMONS by Riyad Barmania (Alan Brodie Representation) and Ryan Andrews (ITG)
Producers: Size 9
FUMBLING by Stephen Prentice (The Rod Hall Agency)
Producers: DJ Films
GIRL'S NIGHT OUT by Trevor De Silva (The Rod Hall Agency)
Producers: Ecosse Films
JAMAICA INN by Patrick Harbinson (ITG) and Michael Thomas (Casarotto)
Producers: Hilary Heath/BBC Films
KARENFAN by Geoff Bussetil (ITG)
Producers: Peapie Films
MODERN LIFE IS RUBBISH by Philip Gawthorne (Curtis Brown)
ON CHESIL BEACH by Ian McEwan (The Agency)
Producers: Neal Street
PASSPORTS by Paloma Baeza (The Agency)
Producers: Focus Films
SUITE FRANCAISE by Saul Dibb (Casarotto)
Producers: Qwerty Films/TF1
THE LOVERS by Bridget O'Connor (Michelle Kass Associates)
Producers: Thomas Thomas Films
THIS LITTLE PIGGY by Corinna Faith (Curtis Brown)
Producers: Warp Films
WILLIAM AND HAROLD by John Hodge (United Agents)