This Week In DVD & Blu-Ray: Scott Pilgrim Vs. The World, Antichrist (Criterion Collection), Grown Ups, And More
We may receive a commission on purchases made from links.
This Week in DVD & Blu-ray is a column that compiles all the latest info regarding new DVD and Blu-ray releases, sales, and exclusive deals from stores including Target, Best Buy and Fry's.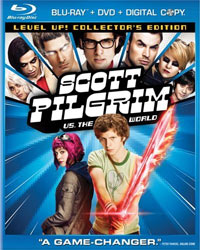 SCOTT PILGRIM VS. THE WORLD
Even as cinematic self-awareness has reached an all-time high in recent years, Scott Pilgrim vs. the World represents a pinnacle of postmodern cultural reflection for the medium. At its core, the film (and the graphic novel on which its based) is a classic love story and coming-of-age tale, but it's been filtered through very modern sensibilities, playfully satirizing a generation that's become heavily defined by its pop culture influences—if not outright consumed by them. And how better to convey that than by literalizing those influences? The universe of Scott Pilgrim is one that's specifically tuned to the zeitgeist of modern youth, populating its world with super powered hipsters, 8-bit weaponry, and death as represented by people bursting into coins. It's deceptively smart, it's funny as hell, and best of all, it doesn't let its appropriately hyperactive mentality prevent the narrative from being driven by the characters. Moreover, the movie is exceptionally well made, featuring wonderfully choreographed, shot and paced action beats, a perfectly realized score from artists including Beck, Metric and Broken Social Scene, and some of the most stunning editing I've seen to date. After 8 viewings—none of which marked the slightest hint of diminishing returns—I'm convinced that literally every single scene transition comes equipped with some sort of clever play on location, sound, and/or imagery. Still, I'm not surprised that the picture failed at the box office. Scott Pilgrim is potentially a very alienating film, guaranteed to put off those (read: most audiences) who don't have an affinity for its pop culture-obsessed stylings. I am confident, however, that the film will build a dedicated following over time, and will hopefully be looked at alongside The Social Network as a film that defined Gen Y in ways no future film is likely to achieve. If not, no matter; that the film exists at all is achievement enough for me.
Available on Blu-ray? Yes.Notable Extras: DVD – Commentary with director Edgar Wright, co-writer Michael Bacall and Author Bryan Lee O'Malley, a second commentary with Wright and director of photography Bill Pope, a third commentary with Michael Cera, Jason Schwartzman, Mary Elizabeth Winstead, Ellen Wong and Brandon Routh, a fourth commentary with Anna Kendrick, Aubrey Plaza, Kieran Culkin and Mark Webber, deleted and alternate scenes with director commentary, bloopers, and a trivia track. Blu-ray – Includes everything on the DVD, as well as alternate footage, featurettes ("Making of Scott Pilgrim vs. the World", "Music", "You Too Can Be Sex Bob-Omb", "Visual Effects", "Sound Work", "Pre-Production"), production blogs, an Adult Swim Scott Pilgrim vs. The Animation feature, storyboard picture-in-picture, a digital copy of the film, and a copy of the DVD of the film.
BEST DVD PRICE
Target
Best Buy
Fry's
$17.99
$17.99
N/A
Amazon – $17.99
BEST BLU-RAY PRICE
Target
Best Buy
Fry's
$24.99
$26.99
N/A
Amazon – $25.99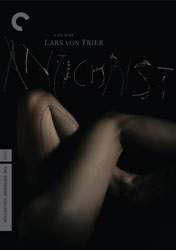 ANTICHRIST (CRITERION COLLECTION)
Is Antichrist a good movie? I don't know. I'm not sure if it's even worth trying to quantify as "good" or "bad". In the end, Lars von Trier made exactly the movie he wanted to make, and how people respond to it or how much they get out of it will depend entirely on their openness to art house provocation and exploration. Personally, I wasn't offended by Antichrist. I wasn't disgusted or disturbed by it. I didn't feel assaulted by the experience. Mostly, I was just bored by it, struggling through the ponderous narrative and dull characters to find something—anything—to latch onto emotionally. And as much as I tried to decipher what von Trier was trying to say with the film's blunt symbolism and dramatically charged imagery, I ultimately found the film too messy and ambiguous to come to any firm conclusions. Yes, there are recurring themes that von Trier seems to be toying with, but it's all rather superficial, and primarily consists of horrific moments of shock value that don't appear to be driving any sort of outside "point" that the film is trying to make. Maybe the film isn't supposed to have a point. Maybe it was simply a creative exercise for Lars von Trier, and as a viewer all we're supposed to do is reflect on how it made us feel. If so, well, it made me feel empty. To me, Antichrist was more successful as a visual slideshow than it was a meaningful horror experience, and I have no intention of ever enduring it again.
Available on Blu-ray? Yes.Notable Extras: DVD & Blu-ray – Commentary by writer/director Lars von Trier and professor Murray Smith, video interviews with von Trier and actors Willem Dafoe and Charlotte Gainsbourg, a collection of video pieces delving into the production of Antichrist, a featurette ("Chaos Reigns at the Cannes Film Festival 2009"), and a booklet featuring an essay by film scholar Ian Christie.
DVD PRICE
Amazon – $23.49
BLU-RAY PRICE
Amazon – $29.49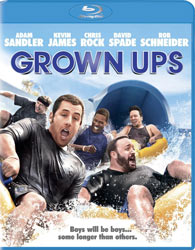 GROWN UPS(Blu-ray available as single-disc and 2-Disc Blu-ray/DVD Combo)
There's a bizarre phenomenon that appears to be taking place in Grown Ups. Observe, the success of each of the male actors is directly proportionate to the hotness and notability of their spouses: Adam Sandler gets to bone Salma Hayek; Kevin James gets to bone Maria Bello; Chris Rock gets to bone Maya Rudolph; David Spade doesn't even get a spouse to bone; and Rob Schneider gets is forced to bone some old lady. So clearly, Sandler and James' characters exist in a realm of fantasy, while Schneider's exists in a realm of sweet karmic justice. (On another note, what the fuck are Salma Hayek, Maria Bello and Maya Rudolph doing in this movie?)
Available on Blu-ray? Yes.Notable Extras: DVD & Blu-ray – Deleted scenes, bloopers, and 4 featurettes with director and cast interviews.
BEST DVD PRICE
Target
Best Buy
Fry's
$16.99
$16.99
N/A
Amazon – $16.99
BEST BLU-RAY PRICE*
Target
Best Buy
Fry's
$19.99
$19.99
N/A
Amazon – $21.99
*Does not include 2-Disc Blu-ray/DVD Combo, which costs $24.99 at Target and Amazon, and $25.99 at Best Buy.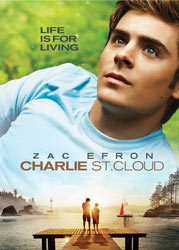 CHARLIE ST. CLOUD
Zac Efron worked before with director Burr Steers on 17 Again, an almost-good film that I regret having seen because it made me realize he's actually talented, which has in turn made hating him increasingly difficult. Luckily, we have the laughably sappy-looking Charlie St. Cloud to remind us how easy it is to loathe someone when everyone keeps trying to emphasize how awesome they are. In it, Zac Efron plays a misunderstood but totally dreamy small town hero who gave up his future so he could teach the spirit of his dead brother baseball. (Because when you're Zac Efron, not even death gets in the way of you being the bestest big brother ever.) He also has a super hot girlfriend, who's in need of saving when her boat goes missing. But oh no! "The coast guard called off the search! No one can survive these waters!" Fuck you, guy from Blade. This is Zac Efron we're talking about here. He can survive anything. And you can bet your sweet ass his shirt will be off when he does.
Available on Blu-ray? Yes.Notable Extras: DVD & Blu-ray – Commentary with director Burr Steers, Deleted Scenes, "On Location with Zac Efron", "Zac Efron, Leading Man", and "The In-Between World".
DVD PRICE
Amazon – $17.99
BLU-RAY PRICE
Amazon – $24.99
Other noteworthy DVD (and Blu-ray) releases this week...Californication (Season 3) – Sherlock (Season 1) [DVD / Blu-ray] – Lie to Me (Season 2) – The Boondocks (Season 3) – Metalocalypse (Season 3) [DVD / Blu-ray] – Men of a Certain Age (Season 1) – Lovely Still – Ramona & Beezus [DVD / Blu-ray] – Love Ranch [DVD / Blu-ray] – MST3K: Vol. XIXNoteworthy Blu-ray-specific releases this week...Tremors – Ocean's 11 (1960)

NOTES: Some deals may vary by store. Some deals may be in-store only. All deals are for DVDs unless otherwise noted.

$14.99 – Futurama (Vol. 4)$19.99 – The Unit (Season 4), It's Always Sunny in Philadelphia (Season 4), How I Met Your Mother (Season 2), 24 (Season 7)$7.99 – Blu-ray sale: 3:10 to Yuma, Crank$9.99 – Blu-ray sale: The Spirit, Stargate, Transporter 3$12.99 – Blu-ray sale: Precious, From Paris with Love, Brothers

$14.99 DVD or $24.99 Blu-ray – Breaking Bad (Season 1 – 2)$8.99 – Blu-ray sale: The Quick and the Dead, Vertical Limit, The Grudge, The Devil's Own, No Way Back, National Security