J Blakeson To Helm Jonathan Nolan Scripted 'Hell And Gone'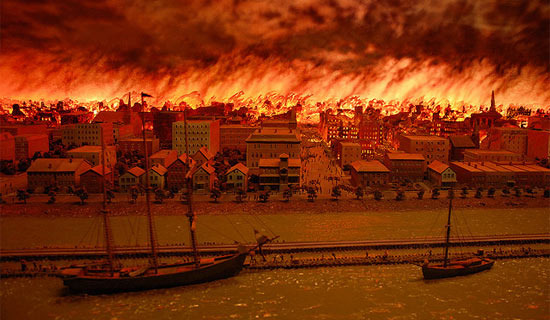 We have yet to see what a Christopher Nolan-less script from Jonathan Nolan looks like, but the odds that we'll see one soon are looking good. He's still got his screenplay for Intersellar, set to be directed by Steven Spielberg, in the pipeline, but who knows when Spielberg will get around to making that. The more viable option for now is Hell and Gone, which is "a Titanic-like historical tragedy and love story revolving around the Great Chicago Fire". Warner Bros. is setting that up, and they have J Blakeson, the writer and director of the critically lauded The Disappearance of Alice Creed, in negotiations to direct.
Heat Vision reports news of the project, and sadly that basic synopsis is all they have of the plot. A couple of years ago though, Jonathan Nolan described the film as "kind of a revenge story", so it will be interesting to see how that factors into it also being a romance. Still, no specifics; only a set-up akin to Titanic with the Great Chicago Fire in place of a sinking ship.
Here's a little historical background, for those who so desire it: The Great Chicago Fire was one of the largest U.S. disasters of the 19th century, killing hundreds and spreading across four square miles. It lasted for two days in 1871, raging through the central business district, destroying hotels, department stores, Chicago's City Hall, the opera house and theaters, churches and printing plants. All attempts to stop the fire by the city's fire department were met with failure.
I have no doubt that there's plenty of sensationalized drama that can be wrung from the event, and the scale is certainly grand enough to make for a thrilling disaster picture—hell, even the above pictured dioramic representation of the fire is kind of mesmerizing—but what already helps to distinguish the project from Titanic is knowing that Jonathan Nolan is behind the script. No need to fear the blunt, stilted dialogue of James Cameron, and more than that, Nolan may bring a level of intelligence to the film not often seen in the disaster film genre.
The film's tentative director, J Blakeson, is fairly new to the film scene. He co-wrote the screenplay for the wholly unnecessary The Descent: Part 2, but he redeemed himself with The Disappearance of Alice Creed. That film garnered an extremely positive response from critics, but failed to find an audience at the box office. It's being released on DVD later this month.