Disney In Talks For 'Enchanted Tiki Room'-Inspired 'Tiki' Movie
24 Frames has learned that Walt Disney Pictures is in talks to acquire Tiki, a screenplay written by musician Ahmet Zappa (yes, son of Frank Zappa) and writing partner Michael Wilson (Shark Tale, Ice Age, Burn Notice, Monster Witness Relocation Program). While the story is not directly related the the Enchanted Tiki Room attraction at Disneyland, Zappa and Wilson were inspired by the animatronic show and decided to write "an action-adventure that mixes in Polynesian mythology."
I was just at Disneyland a couple weeks ago and visited the Tiki Room, which is one of the older attractions which many of the Disneyland visitors passby on the way to Indiana Jones. It's one of the most underrated gems in the park, an attraction opened by Walt Disney himself in June 23rd 1963 featuring a room which would come to life using the latest in Audio-Animatronic technology.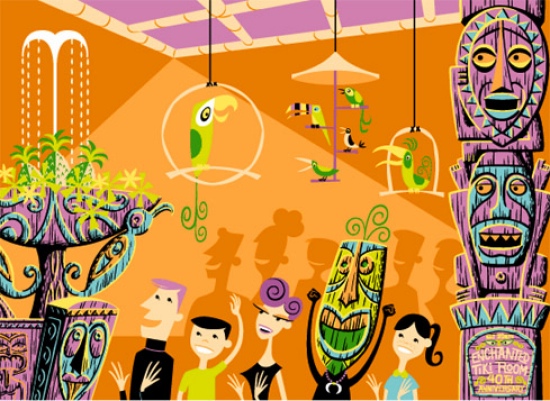 Here is a bit more information on the Enchanted Tiki Room from Wikipedia:
The attraction opened in an era when all things Polynesian were popular and was an immediate hit. It houses a Hawaiian-themed musical show "hosted" by four lifelike macaws whose plumage matches their implied countries of origin. "José" is red, white and green and speaks with a Mexican accent, voiced by Wally Boag; "Michael" is white and green with an Irish brogue, voiced by Fulton Burley; "Pierre" is blue, white and red, and has a French accent courtesy of the voice talents of Ernie Newton while red, black and white "Fritz" has a German accent provided by Thurl Ravenscroft, who also voices Hawaiian god "Tangaroa" near the attraction's entrance. ... The presentation features a "cast" of over 150 talking, singing and dancing birds, flowers, the aforementioned magic fountain, tiki drummers and tiki totem poles that perform the attraction's signature tunes, "The Tiki Tiki Tiki Room" by the Sherman Brothers and "Let's All Sing Like the Birdies Sing". The finale has every Audio-Animatronic figure performing a rousing version of "Hawaiian War Chant". The choice of exit music is somewhat unusual, namely an arrangement of "Heigh-Ho" from Snow White and the Seven Dwarfs with lyrics thanking guests for watching the show and hurrying them to the exit.
Not much fictional backstory behind the attraction has been revealed, which would definitely allow for a big screen film property to expand the mythology (much in the same way they did with Pirates of the Caribbean). There is certainly a lot of little details in the attraction which could be used in a film adaptation. For example, the outside of the lanai features a bunch of Hawaiian Gods, each of which has a rhyming legend to tell. According to wiki, they include "Hina Kuluua, goddess of rain; Rongo, god of agriculture; Maui (god), who roped the playful sun; and Tangaroa, father of all gods and goddesses."
Here is video from the original Enchanted Tiki Room show: