Rumors: Morgan Freeman In 'Akira'; Rubik's Cube Movie?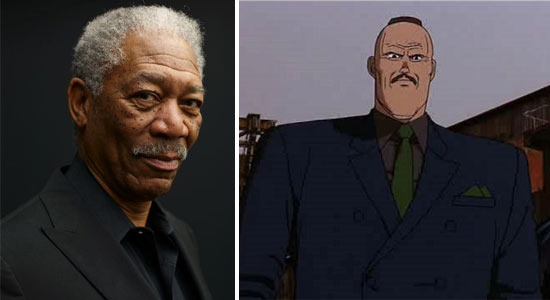 I've been anxiously awaiting confirmation that Zac Efron will in fact not star in Albert Hughes' upcoming live-action adaptation of the popular anime/Katsuhiro Otomo's six-volume manga Akira, but instead all we've gotten are more rumors. At least this bit of potential casting is much more appealing: it seems Morgan Freeman is circling the role of the Colonel, aka Colonel Shikishima.
(After the break, more on Akira, and an unfortunate realization dawns: Hollywood might make a Rubik's Cube movie.)
For those unfamiliar with the anime, it's set in a post-apocalyptic Neo-Tokyo, and centers around a teen biker gang member who was subjected to a government experiment which unleashes his latent powers. It's up to Kaneda, the leader of the gang, to put an end to the destruction. The Colonel is a vital character in the story, acting as the head of the secret government project conducting research on psychic test subjects. Though he initially seems like an antagonist, he later proves to be an honorable and dedicated soldier.
Even though I'm not thrilled about the prospect of a live-action Akira movie, Morgan Freeman is an intriguing choice. He's the sort of actor who can bring gravitas to even the silliest material, as he did with Wanted, and he's especially suited to authority figure roles. Those two factors alone make him a perfect candidate to play the Colonel in a Hollywoodized Akira remake, which could end up being pretty spectacular, but is probably more likely to be simplified into just another dumb action movie. [Bloody Disgusting]
Is Hollywood making a Rubik's Cube movie?
It's certainly a possibility, as the Hollywood talent agency CAA (who represents stars such as George Clooney, Brad Pitt, Oprah Winfrey and Meryl Streep) have signed Rubik's Cube as a client. I wasn't aware that signing inanimate objects as clients was remotely feasible, but there you have it.
The agency is reportedly talking to studios and producers about structuring a film around the 3D brain-teasing puzzle, with one suggestion being to base it around a Rubik's Cube competition. I would've thought a fantasy adventure film would be more likely, considering the direction board game movies like Ouija, Battleship and Candy Land have been taking. Perhaps they could use it in place of the Lament Configuration for the Hellraiser remake.
Rubik's Cube has acted in dozens of films previously, starring alongside Will Smith in The Pursuit of Happyness and also getting some shining moments in movies such as Wall-E, Let the Right One In and Hellboy. I doubt it will be able to escape typecasting for its first starring role, but hopefully it at least gets to show a little more range than it has in the past. For now, I'm not convinced it can carry a movie. [What's Playing]