Hayden Panettiere And Nikki Reed To Star In 'Downers Grove'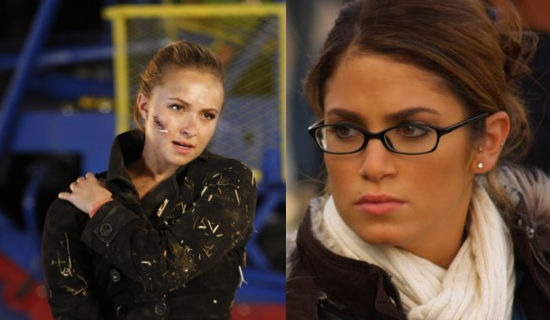 We may receive a commission on purchases made from links.
Whether or not you've read American Psycho, The Rules of Attraction or Less Than Zero, the name Bret Easton Ellis conjures up a pretty specific set of themes: some combination of twisted social commentary, biting humor and gratuitous violence. And though Ellis has adapted one of own his books to a screenplay, he's just written his first adaptation of a book that's not his. That book is Michael Hornburg's novel Downers Grove which is about a suburban high school where one senior dies a horrible death at the end of each year. Nelson McCormick, best known for the recent remakes of Prom Night and The Stepfather, is attached to direct and it's set to star Hayden Panettiere (Heroes, Scre4m) and Nikki Reed (Thirteen, Twilight) in addition to Rebecca De Mornay. The whole package is currently being shopped at the America Film Market.  Read more after the jump.
Variety broke the news of the actresses and director becoming attached to the project, which is being put together by Myriad Pictures. And though the film certainly sounds like Final Destination drawn out over several years, the addition of Bret Easton Ellis obviously shows there's much more than that. I haven't read the book, which was published in 2001, but Publishers Weekly has, and here's their review thanks to Amazon.
Disquieting in its timeliness, Hornburg's (Bongwater) second novel is a tale of violence among high school cliques and a gritty portrait of adolescent pluck amid morbid chaos. Narrator Crystal Methedrine Swanson is on the verge of graduating from Downers Grove High in Illinois. Chrissie, as her friends call her, has a lot to deal with on the home front: her father has left without a trace, her brother is addicted to heroin and her mother is dating an increasingly sinister new beau. Chrissie and her boy-crazy, sexpot best friend, Tracy, also worry about "the curse" of their high school: each year before graduation, somebody in the senior class dies in a bizarre way. One year a math whiz killed several people in the parking lot before turning the shotgun on himself; other graduations were marred by suicide, drowning and several drunk-driving accidents. After Chrissie beats up a jock who tried to rape her at a party, she becomes terrified that she will be the next statistic. The jock and his buddies pursue an escalating plot of revenge beginning with a vicious car chase. They also set fire to Chrissie's school locker and strew dead dogs on her lawn. Adding to the plot twists of this teenybopper drama is Chrissie's obsession with a 26-year-old mechanic–cum-race-car driver named Bobby. Tough, insensitive and super-cool, Bobby is the kind of character only a teenage girl could love. Hornburg's prose is rife with adolescent jokes and lingo, some of it hilarious and sharp. At other times the humor wears thin, especially because Chrissie's youthful wisecracking does not segue smoothly into passages of soul-searching introspection. Yet Chrissie's relentlessly vernacular teenage voice takes up residence in the reader's mind, establishing her vulnerability and demonstrating the courage she shows on her stressful road to maturity.
That certainly sounds like something Bret Easton Ellis would write a hell of an adaptation of. And you'd imagine, from the types of roles they've played in the past, Panettiere would be Chrissie and Reed would be Tracy.
So now, the whole package – director, screenplay, actresses, etc – just needs to find some financing and we've got ourselves a movie. Myriad is certainly confident they will too. The Variety story says they hope to start shooting in Louisiana in the Spring.
Has anyone read Downers Grove? Are you sick of these angsty high school horror stories or do you think Bret Easton Ellis' involvement puts this one on a different level?