Rebecca Hall And Guy Pearce To Star In 'Man On Wire' Director James Marsh's 'Shadow Dancer'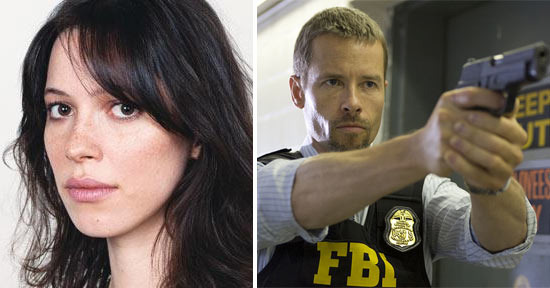 Rebecca Hall first hit the film scene less than five years ago, but she's already built quite the career for herself, starring in films such as Vicky Cristina Barcelona, The Prestige, Frost/Nixon, Please Give, and most recently The Town. Now she's got another project lined up: Shadow Dancer, the latest film from Man on Wire director James Marsh. Learn more after the break.Variety says that Rebecca Hall is in talks to star in the film, but indie production company Unanimous Pictures confirms that she'll be starring in the BBC-produced project alongside the talented and continuously underrated Guy Pearce.
That Hall and Pearce are in the film is reason enough for excitement, but the involvement of director James Marsh seals the deal. His work on the documentary Man on Wire unanimously impressed critics, and his recent entry in the Red Riding trilogy, 1980, was my favorite of the three. I look forward to seeing what else he can do.
(Coincidentally, Rebecca Hall appeared in the first entry of the Red Riding trilogy, 1974.)
The script comes from Tom Bradby, adapted from his own novel about a young woman who's a former IRA terrorist turned informant for Britain's MI5. "Her brothers are both heavily involved with the IRA and her husband was killed by Brit security forces. But when she is arrested over an aborted bombing attempt in London, she is forced to reveal her past if she wishes to see her children again." Hall will play the young woman, and Pearce will play her handler. Bradby's screenplay was recently featured on the Brit List, which is akin to the US' Black List, featuring the best unproduced screenplays in the U.K. and Ireland.
Here's a full synopsis of the book:
Colette McVeigh: mother...widow...terrorist. A woman who has lived the Republican cause for all of her 29 years. A woman whose brothers are both heavily involved at senior levels in the IRA, whose husband was killed by the British security forces. A woman who is now an informer for MI5.
Arrested in an aborted bombing attempt in London, Colette is given two choices: talk and see her children again, or stay silent and spend the rest of her life watching them grow up from behind the bars of a prison cell.
Unwillingly she is led to betray her past by her young MI5 handler, David Ryan, who always knew where his loyalties lay. But when he follows Colette to Belfast, those values are quickly sacrificed on the pyre of the province's history. As the peace process gathers pace and Ryan watches Colette put herself in increasing danger to keep her side of the bargain, he realises that his professional integrity is irrevocably and fatally compromised...