Bruce Willis And Paul Walker Joining 50 Cent In 'Set Up'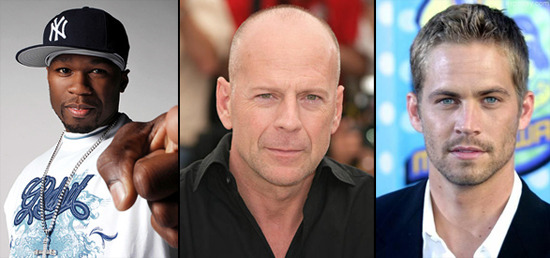 Curtis "50 Cent" Jackson continues to evolve as a potential, if highly unlikely leading man. He's doing this in part by continuing a partnership with Bruce Willis, with whom he's producing the film Catch .44. And now Mr. Willis and Paul Walker are in talks to join 50 Cent in the heist action film Set Up, which is being shopped to foreign distributors. Variety says that Mike Gunther is writing and plans to direct. Paul Walker has been in talks to join and now Bruce Willis is also in talks. Curtis Jackson is already set for the film, which "revolves around a group of friends who are catapulted into the middle of a diamond heist that turns deadly."
Who is Mike Gunther? He's a stunt coordinator who has worked on, among many other films, Live Free or Die Hard and Fast Five — that's your link between this film and the two potential new co-stars. But will Set Up ever get made? No idea. It's is in that position that so many other films at a sales market end up inhabiting: there is talent attached, which is meant to help drive sales, but depending on the sales made that talent may not remain attached.
And with that basic plot description it's difficult to tell whether there's anything to recommend this one. Friendly business ties seem to be pulling it together, but even for a devoted heist film fan, that plot sounds dangerously over-worn.
We still have to see Curtis Jackson in Things Fall Apart, the football film for which the rapper lost a great deal of weight, and in which he co-stars with Ray Liotta. Mario Van Peebles directs that one. I've dismissed Jackson's work in the past based on Righteous Kill and Get Rich Or Die Tryin', but you can't say the guy lacks commitment. Can he become a legit acting talent? Or, based on films like Gun, has that already happened?