Rumors: War Machine Spin-Off In Development; Jeremy Renner For 'Escape From New York'; Javier Bardem And James Franco For 'Clash Of The Titans 2?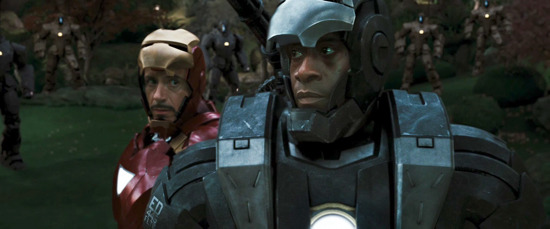 It was a big weekend for rumors; sadly a lot of the most fun genre and superhero film stories are little more than unconfirmed rumor at this point. Pajiba, for example, tweeted that Marvel has a pitch out to writers for a War Machine spin-off film. This is more like a vague confirmation of what we've expected to happen, and since Marvel will need some core content to follow The Avengers, we're bound to hear about another group of films to follow. Seeing an Iron Man spin-off starring Don Cheadle could be a lot of fun, and we'll update if someone is hired to write the film.
After the break, very tentative updates and rumors on the Escape From New York remake and Clash of the Titans 2, aka Wrath of the Titans.
Bloody Disgusting reported and then stepped back slightly from news that Jeremy Renner has been offered the Snake Plisskin role in the Breck Esiner-directed remake of Escape From New York. Great casting if it actually happens, but that's an idea that is already in doubt. (The actor has a few films either signed or potentially lined up after he finishes Mission Impossible: The Avengers, The Raven, The Master.)
While I can't quite see a remake of the film having the same character and atmosphere as the original, Jeremy Renner could be a badass to stack up well against Kurt Russell's original. Take his smirking (OK, occasionally smirking) confidence from The Hurt Locker and stir in a bit of his steely character from The Town and you might see a new Snake Plisskin start to emerge. But the site now says that this was an early, potentially premature announcement. So: forget all that stuff I just said about Mr. Renner being great for the role. It could well never happen.
Finally, Production Weekly tweeted the following about the in-development sequel to Clash of the Titans:
Rumored casting choices for the Warner Bros. sequel "Wrath of the Titans", Javier Bardem for Ares & James Franco for the role of Agenor.
That's the god of war for James Franco and the son of Poseidon for Javier Bardem. Jonathan Liebesman is directing this sequel with Sam Worthington and Gemma Arterton expected but not yet confirmed to return. We'll update more on casting for the film as official word comes out.