AFI Fest Movie Reviews: 'Pulsar' And 'Hamill'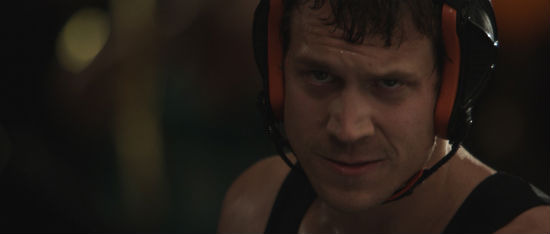 Film festivals are about three things. First is seeing huge, buzzed about films that no one has seen yet. Second is about discovering movies no one has heard of yet. And the third is seeing films no one will ever see again. After three days at the AFI Fest in Hollywood, CA, I'd hit one film in each category. The big film was Oscar contender The King's Speech (read our review here), the discovery was the inspiring true life story of a deaf mixed martial artist called Hamill (pictured above) and the film no one will ever see is called Pulsar, a boring Belgian love story mixed with technological paranoia. Read reviews of the latter two films after the jump.
Pulsar, directed by Alex Stockman, features Belgian movie star Matthias Schoenaerts as Samuel, who is trying to maintain a long distance long distance relationship with his girlfriend, Mireille, who is in New York. They text, e-mail, Skype and one day, Samuel's wireless seems to get hacked. Paranoia sets in as he does everything he can to figure out how and why he's being targeted and it begins to negatively affect his relationship.
Stockman, who also wrote the film, has some strong ideas here – mainly about how we are so willing to send important information about our lives out into the air – but he can't quite bring everything together. The film is detrimentally slow and while it leads the audience to believe we'll be let in on some kind of grand conspiracy, it never materializes. Instead we're left watching scene after scene of red herrings and symbolism until, finally, the film literally just ends without wrapping anything up. There are certainly ways an audience can read Pulsar but without any kind of hints as to where to start, it was supremely frustrating.
While Pulsar was impossible to figure out, Hamill is exactly the opposite. It's a unique spin on the classic, tried and true sports formula of one person trumping over the competition. What sets this film apart though is not only that it's true, it's about a deaf person who became a UFC superstar.
Matt Hamill was born deaf in rural Ohio. Even though Matt couldn't hear, his stubborn but loving grandfather made sure he was never treated differently, even when he probably should have been. So to help mask much of his social frustrations, Matt developed an aptitude for wrestling which eventually lead him to heights that would be incredible for someone with all five senses, let alone one missing.
Made by a slew of first time feature filmmakers, including director Oren Kaplan and writers Eben Kostbar and Joseph McKelheer, Hamill does feel a little rough around the edges. It drags a bit in the middle and the inevitable climax doesn't pop as much as you'd expect, but those are just two minor gripes in an otherwise solid package. One really interesting thing the film does is vary the use of subtitles. Since the film stars a mostly deaf cast, and will presumably be marketed to deaf people, the whole thing needed to be subtitled in the first place. Then, large sections of the film are just in sign language, so people who can hear need subtitles for that. Finally, there are scenes where the subtitles are missing words (which is sort of ____ like ____), confusing the audience as if they too were deaf. Add that to some superior sound design and the film does an admirable job of making the audience sympathize with Hamill's situation on a physical level as well as an emotional one.
A lot of that connection also has to do with the lead performance by Russell Harvard, who played the adult version of H.W. Plainview in There Will Be Blood. He's simply perfect in the role. A deaf actor himself, he's a physical presence while also being very sympathetic and relatable. He's the glue in a film that's provides a unique take on a familiar story and manages to simultaneously inspire and entertain.