New Images From Steven Spielberg's 'Tintin'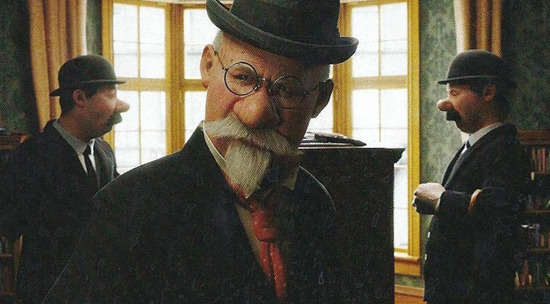 At the beginning of this week we showed you the first look at Tintin (Jamie Bell) and Captain Haddock (Andy Serkis), from The Adventures of Tintin: The Secret of the Unicorn, directed by Steven Spielberg and with post-production mocap work by Peter Jackson and WETA. More specifically: we showed you their rendered forms as they'll appear in the film. Now there are a few more images that show, among other things, the two characters that are played and voiced by Simon Pegg and Nick Frost.
Empire had the first look image, and I believe these scans come from the print edition of the magazine. Note that while Thompson and Thompson (left and right in the header image, and seen below) look like twins and are quite faithful to their print counterparts, they also have their own characteristics that vaguely resemble Simon Pegg (left) and Nick Frost (right).
And while the first couple shots were pretty basic in terms of showing off the film's visual style, these images suggest that Steven Spielberg wasn't making idle promises when he said,
The first part of the film, which is the most mysterious part, certainly owes much to not only film noir but the whole German Brechtian theatre — some of our night scenes and our action scenes are very contrasty.
Click each image to enlarge.
[via Film Actu and Bleeding Cool]