Guillermo Del Toro Interviews Edgar Wright And Others About 'Scott Pilgrim' For 85 Minutes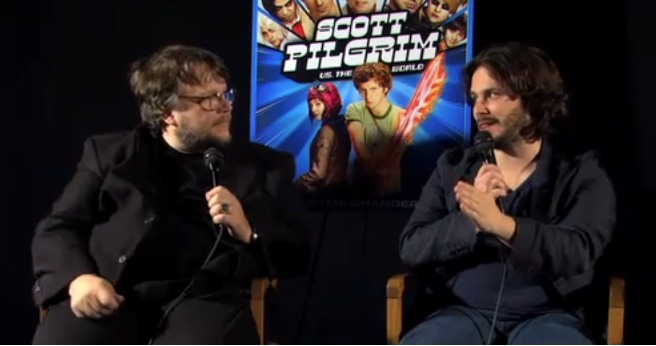 When two of the biggest film geek directors in the world sit down to chat, it's always something to behold and that's exactly what happened this past Monday at one of the numerous sold out screenings of Scott Pilgrim vs. The World in anticipation of its Blu-ray release on November 9. This particular screening took place at the Egyptian Theater in Hollywood CA, which is literally 3 blocks from my front door. And though the proximity was a huge plus, as was the opportunity to see the awesome film on the big screen once again, the biggest reason for my attendance was that Guillermo del Toro would be interviewing co-writer and director Edgar Wright as well as Scott Pilgrim creator Bryan Lee O'Malley after the film. As an added surprise, several cast members including Mary Elizabeth Winstead, Johnny Simmons and Satya Bhabha came out to help introduce the film while Scott Pilgrim himself, Michael Cera, hung out after to take part in the Q&A.
We posted a few clips of this earlier in the week, but if you have an hour and a half, the whole Q&A is now online and is extremely entertaining. Besides all the basic stories, there's a simple joy in watching how Del Toro and Wright interact with each other, not to mention the hilarious commentary that Cera provides. I'm so glad you can now all get to experience what I did. Check it out after the jump.
To be honest, if you've followed Scott Pilgrim press back in August, there's not a whole lot of new info here. Still, it's still completely worth watching because of the chemistry and recent cultural context. To begin, audience members were told not to ask Del Toro about The Hobbit or Cera about an Arrested Development movie and thankfully, neither was mentioned. What was mentioned, however, is how early on in the process Wright showed Del Toro storyboards from the film and how important Del Toro feels Scott Pilgrim vs. The World is to today's society. Plus, he does a great job of making you feel terrible if you didn't see it in theaters during regular release and explaining how much went into Wright's filmmaking process.
All in all, a fantastic night, a fantastic movie and a fantastic Q&A. It's below and is in three parts, including the introduction. Just mouse over and click the menu to skip between parts.