First Look: 'The Muppets,' Featuring New 20-Something Muppet Walter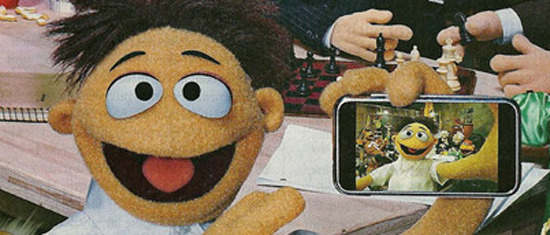 Briefly: There's a double-page photo spread in the new Entertainment Weekly that features Jason Segel, co-writer and star of The Muppets, along with his hand-made co-stars from the film. Most of the characters in the photo spread are established faves, but there's also a reveal of the new addition: Walter, who proudly brandishes an iPhone.
According to the magazine, Walter is "a sweet, slightly naive twenty-something Everypuppet who, in the movie, is the best friend and roommate of Segel's character, Gary. Both Gary and Walter are die-hard Muppet fans." So...the Muppets aren't a race or anything like that, but a group of characters? Consider that point clarified. (I'd never thought much about it, but that's probably a point made in an earlier film.) Walter has never met other puppets and idealizes Kermit and the Muppets because they're the only beings he's seen that are like him.
The Muppets will be directed by James Bobin from Jason Segel and Nicholas Stoller's script, and has a planned December 25, 2011 release date.  See the images in full after the break. [via ComingSoon]