Steve Pink To Write And Direct 'The Toxic Avenger' Remake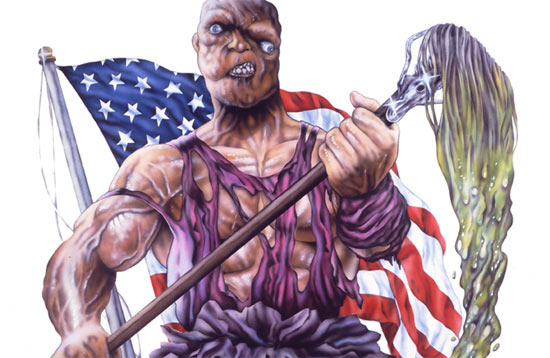 Earlier this year it was revealed that Akiva Goldsman (producer of remakes and adaptations such as Lost in Space, Starsky & Hutch, Poseidon, The Losers, and Jonah Hex) and a couple of others had acquired the rights to The Toxic Avenger, based on the cult Troma character in all his incarnations: five films, an animated show, and comic books. Now we've learned that Steve Pink, the Accepted and Hot Tub Time Machine director who was recently announced as developing How to Survive a Robot Uprising with Jack Black, will co-write and direct the remake, which is being pitched as an "environmentally-conscious action-comedy".
Deadline says that Pink will co-write the film with newcomer Daniel C. Mitchell, and also has a quote from the director himself: "The Toxic Avenger is exactly what the country–wait, that's not big enough–what the world needs right now."
The plot of the original film followed Melvin, a weakling mop boy who's humiliated by a couple of exercise freaks and inadvertently finds himself ending up in a vat of toxic waste. Thus he becomes the Toxic Avenger, a muscular, deformed local superhero who always gets the ladies.
As somebody with no loyalty to The Toxic Avenger character, but appreciates it for spawning the weird, cheap little movies it has, I'm at a loss as to what the point of this remake is. The original film was low budget schlock with no real commercial appeal, and the only way to make it commercial would be to downplay everything that made the property unique. Indeed, that's the route that producers Akiva Goldsman, Richard Saperstein (Mother's Day remake) and Charlie Corwin (Joel Schumacher's Twelve) are taking with the film, making it a "family friendly PG-13 action comedy akin to The Mask."
Transforming Toxie into a kiddy cartoon hero didn't exactly make him more palatable for audiences back in the '90s, but perhaps Goldsman and co. are banking on the social relevance of him now being "a green superhero for these environmentally conscious times".
My question: if this is what they're planning to do with the character, why bother calling him The Toxic Avenger at all? Do they really think they're drawing in Troma fans with this sort of treatment? Or could they just not afford to make a Captain Planet movie?