Sally Field Joins Spider-Man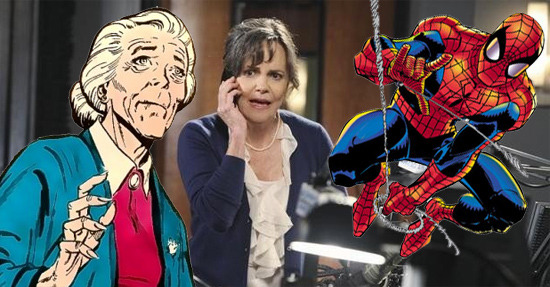 Just a couple hours ago, it was revealed that Martin Sheen was in final negotiations to join the cast of Columbia Pictures' 3D Spider-Man reboot. Now HeatVision is reporting that Academy Award-winning actress Sally Field (Norma Rae, Places in the Heart, Forrest Gump, Mrs. Doubtfire) is also in talks to join the film, which is being directed by (500) Days of Summer helmer Marc Webb. Sheen will play Peter Parker's Uncle Ben, so it is likely that Field will play the role of Aunt May.
In the traditional Spider-Man story, Peter Parker is brought up by Uncle Ben and Aunt May. Parker is given superpowers after being bitten by a radioactive spider. Uncle Ben's murder during a robbery results in Parker's new ambition to become a crimefighter. Widowed Aunt May is nurturing and supportive of Peter although, for most of the comic mythology, she has not known of his secret life as Spider-man.
Field will join a cast which so far includes Andrew Garfield (The Social Network, Never Let Me Go) as Parker, Emma Stone (Superbad, Easy A) as love interest Gwen Stacy, Rhys Ifans as the movie's villain, The Lizard, and Martin Sheen (Apocalypse Now, The Departed, Catch Me If You Can) as Uncle Ben.
Discuss: What are your thoughts on Field playing the character of Aunt May? Sound off in the comments!