Martin Sheen Cast As Uncle Ben In Marc Webb's Spider-Man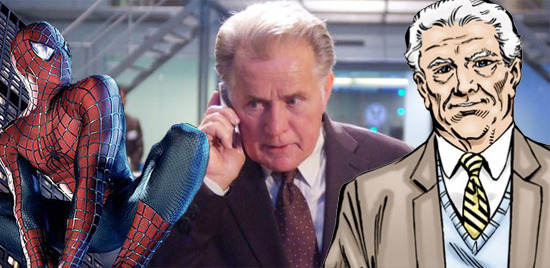 Breaking news: Martin Sheen (Apocalypse Now, The Departed, Catch Me If You Can) has joined the cast of Columbia Pictures' 3D Spider-Man reboot, which is being directed by (500) Days of Summer helmer Marc Webb. Sheen will play Peter Parker's Uncle Ben.
In the traditional Spider-Man story, Peter Parker is brought up by Uncle Ben and Aunt May. Parker is given superpowers after being bitten by a radioactive spider. Uncle Ben's murder during a robbery results in Parker's new ambition to become a crimefighter. The character first appeared in Amazing Fantasy #15 (published in August 1962), created by writer Stan Lee and artist Steve Ditko, and was killed in the very same issue.
It is most likely the same storyline will be featured in the new Spider-Man reboot as Uncle Ben's storyline is closely connected to Parker's decision to become Spider-Man. Also, his death is notable for being one of the few comic book deaths (along with the death of Gwen Stacy) that was not later reversed. The often-quoted "with great power comes great responsibility" is widely attributed to Uncle Ben, however in the original comic the phrase appears in a narrative caption in the comic's last panel, and not as spoken dialogue. Later stories gave Ben the quote in flashbacks/memories, and it was a big focal point of the Sam Raimi-directed Spider-Man trilogy.
Sheen joins a cast which so far includes Andrew Garfield (The Social Network, Never Let Me Go) as Parker, Emma Stone (Superbad, Easy A) as love interest Gwen Stacy and Rhys Ifans as the movie's villain, The Lizard.
Discuss: What are your thoughts on Sheen playing the character of Uncle Ben? Sound off in the comments!
via: Heatvision