Aaron Eckhart To Play CIA Agent In 'The Expatriate'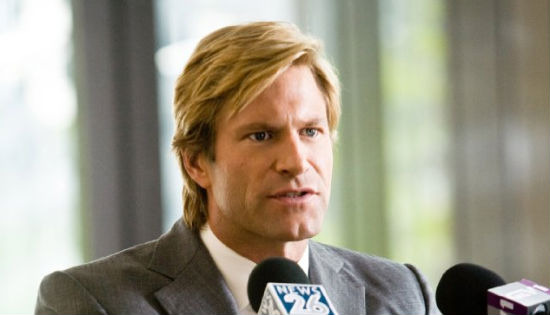 The moral of recent CIA movies like Fair Game and Red is that leaving the agency is never a good thing. That's what Aaron Eckhart will soon learn in The Expatriate, a thriller he just signed to star in directed by Philipp Stolzl (a music video director whose last feature was the 2008 film North Face) from a script by by A.E. Amel. Eckhart plays an ex-CIA agent who leaves the spy game to rebuild a relationship with his 15-year-old daughter. He takes a job as a security expert at a corporation only to find out the whole place is a front in order to kill him. So father and daughter go on the run, putting their shaky relationship back on the rocks. Think The Professional meets Red with a little To Kill a Mockingbird sprinkled across. We've got more info after the jump.
Deadline broke the news of Eckhart's casting. The in demand actor has Rabbit Hole coming out next month, and then Battle: Los Angeles and The Rum Diary coming out in 2011. Reportedly, The Expatriate is aiming to shoot in Belgium and Montreal early next year with funding from Informant Media.
Though Eckhart is best known for playing characters who are suave and kind of cocky, I think this turn as a Dad is going to be a positive one for him. Sure, he's a Dad with a secret -and a gun – plus he plays a father in Rabbit Hole – but this feels like the kind of role that can open up whole other genres. Which is great, because he's the kind of actor that deserves to get a wide variety of roles, like Christian Bale or Hugh Jackman, rather than always reprising a version of his characters from Thank You For Smoking or The Dark Knight. Though, I can't be the only one who would  kill to see him back in The Dark Knight Rises. I know Harvey's dead, but still.
Does the prospect of Eckhart as a CIA agent on the run, with his daughter, do anything for you? Are you kind of pissed, as I am, that the twist of the corporation being against him is part of the pitch? That would have been a great surprise.